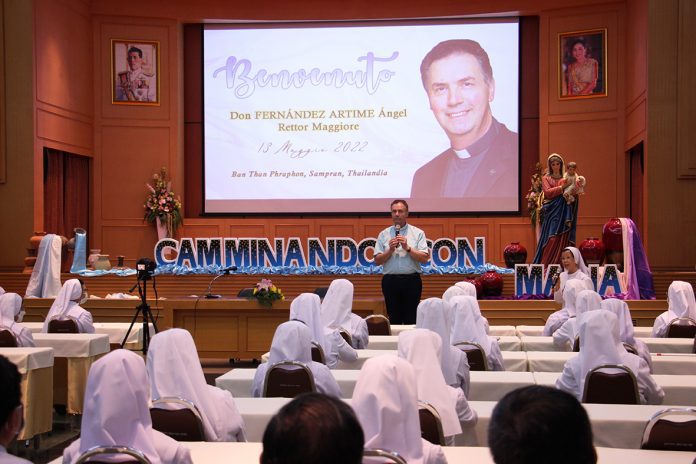 Sam Phran (Thailand). On 13 May 2022, the Feast of St. Mary Domenica Mazzarello, the Rector Major of the Salesians of Don Bosco, Fr. Ángel Fernández Artime,  from 5 May on an Animation Visit to the SDB San Paolo Province of Thailand,  together with Fr. Joseph Nguyen Thinh Phuoc, Regional Councilor for East Asia Oceania,  the Provincial Fr. John Bosco Dheparat Pitisan, and the Councilors of the Vietnam Province, met the Daughters of Mary Help of Christians of the Province of St. Mary Mazzarello (THA) at the Ban Than Phraphon Gathering Center of Sam Phran.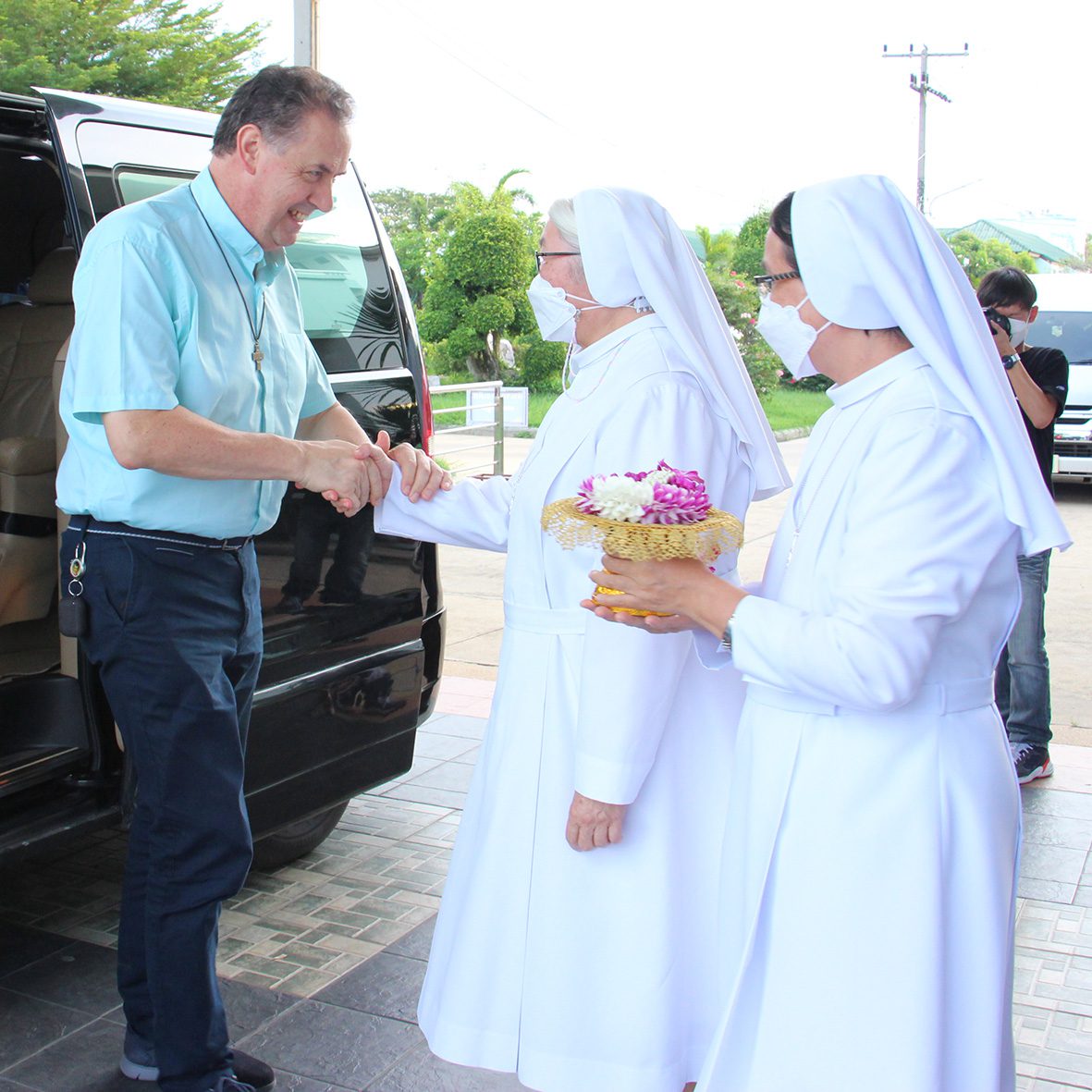 Waiting for him were the Provincial, Sr. Agnes Nipha Rangabpit, about 50 FMA representing some Houses, the young people in formation, and the students of the 'Blind Youth Rehabilitation Center' present in the House, who welcomed the 10th Successor of Don Bosco with the offering of the wreath, words of good wishes, and a hymn of welcome, an expression of Salesian joy.
This was followed by the homage of entrustment to the Help of Christians by the Rector Major and the blessing of the statues of Don Bosco and Mother Mazzarello, placed at the entrance of Mary Help of Christians Community House. Accompanied to the meeting room, Fr. Ángel received a greeting from the Provincial and listened to a brief report on the Province. A video was then presented on the activities carried out in the Province, based on the hymn of the 150th anniversary of the FMA Institute.
The Rector Major then addressed his fatherly word, expressing his joy of being among the FMA on the Feast of the Holy Co-founder Mary Mazzarello. He rejoiced at the activities carried out for the 150th anniversary of the Institute and encouraged the FMA to love Don Bosco and Mary Mazzarello very much and to be the sentinels who with their life full of hope "wake up the world", as Pope Francis asks especially the sisters to do.
An FMA, in the name of everyone, then expressed gratitude for his presence and the Provincial offered him gifts that he appreciated, including the statue of "Our Lady of Thailand". The final expression of THANK YOU was through the singing of the Magnificat "Mi alma canta". The meeting ended with the conviviality of dinner together, a fraternal opportunity for greater sharing among the participants.
The Feast of St. Mary Domenica Mazzarello of 2022 will certainly be a grateful remembrance for every FMA in Thailand, combined with the commitment of fidelity, not only for those present, but also for the others who receive its transmission in various ways.
Photos: Flickr FMA