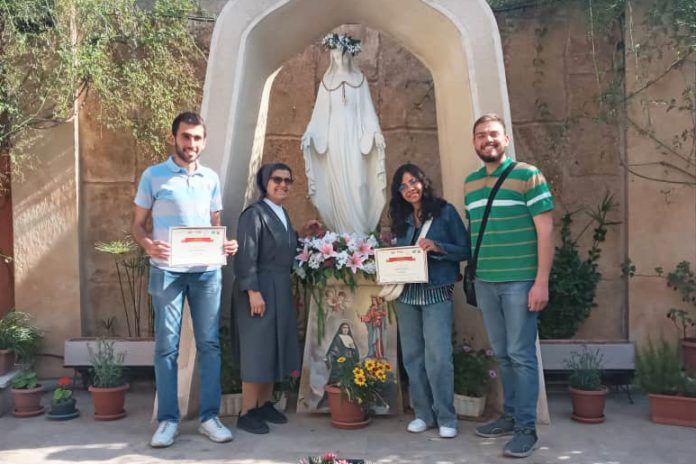 Aleppo (Syria). Following the earthquake of 6 February 2023, added to a situation of persistent warfare, the need to offer Syrian young people special support became increasingly evident to face the traumas together, to heal the wounds as much as possible, to face the present and project into the future, to strengthen hope and reinvigorate the energies of good, helping the little ones as well.
From 2 to 12 May 2023, Firas, Edwar, and Hiba, three young people from the Aleppo House of the Daughters of Mary Help of Christians in Adolescent Jesus Province (MOR), adhered to the proposal of the Capuchin Franciscan Friars: "Respond to the traumas of War and Natural Disasters in Syria through Social Theater".
The project, conceived by the Missionary Center of the Capuchin Franciscan Friars Minor of Lombardy in collaboration with Capuchin Social Theatre, Voci Erranti Onlus and other organizations of the Capuchin and Conventual Friars Minor, had as its objective the creation of a formation program for local workers, aimed at learning social theater techniques and skills in order to assist Syrian children, young people, and adults suffering from trauma because of what they have lived and are living.
Accompanied by the Referent, Friar Stefano Luca OFM Cap. with his team, the young people participated in intensive formation in Lebanon, together with seven other young people from Aleppo and Damascus sent by other religious congregations.
In ten days, the young people received more than seventy hours of formation and were able to get to know some significant Christian places in Lebanon, including the Shrine of Our Lady of Harissa and the Mar Charbel monastery. They also had two afternoons of supervised practice with Syrian refugee children in Lebanon.
The content was varied, both in view of the use of theatrical techniques in one's own realities, and of reflection on one's own self and on one's experience: acquisition of games and activities to conduct laboratory sessions; basic techniques for conducting a social theater workshop; leadership styles to lead a social theater workshop; indications on how to write a social theater project; foundations for building social and community theater events. And in addition: how to develop a dynamic relationship with children and young people based on trust and respect; promote self-confidence; the importance, for a social theater conductor, of taking care of oneself; implement body language awareness; work as a team in a social theater project; the methodology of the Franciscan Social Theater for working with children and young people who have experienced traumatic events such as war.
The alternation of formation with moments of prayer, religious visits, and fraternal life allowed everyone to live a significant experience, both in terms of the technical content and with regard to their own life path.
The second phase of the project – between June and December 2023 – consists in the development and implementation by the participants, of small social theater workshops with the children and adolescents of their own realities, monitored by the organizers in the activities through online sessions.
The experience will conclude with a final 4–5-day residential formation in Syria or Lebanon, between January and May 2024.
Here are the impressions of the participants from the FMA House in Aleppo:
"This course has given us many important ideas for life and for the soul. It was the best experience we have ever had. We have received important content to relate to people who have had a psychological trauma using social theatre. They taught us how to be guides and helpers" (Hiba).
"I lived a truly beautiful experience. The social theater moved something inside me and gave me so much for my life and for my work. Now we know what it is, how it works, and how we can help others overcome trauma" (Edwar).
"I felt full of communication skills in relating to people. I am now able to distinguish the role of the guide and the helper and how vital everyone involved in the theater is. I learned the importance of using social theater with weak and fragile people. With the theater, we learned to look at people differently and to welcome them as Jesus welcomed them; to see the other in truth and to recognize their goodness. In 10 days of experience, we have studied the program to live it and put it into practice with the children. It was a strong and rich experience, which continues in practice with children and adolescents in our realities and in the Church" (Firas).
From 19 to 21 May 2023, a group of 23 young people from the FMA House in Aleppo, together with Sr. Jannette El Haj, also had a small experience in the context of the psychological and spiritual support project, "Have peace in me" (Jn 16 :33) promoted by the Salesians of Don Bosco, who hosted them in Damascus for a few days of 'recharging' away from their own environment. During this time, they were able to engage in recreational, sporting, and spiritual activities to be together, to regain control of themselves and relieve the tensions caused by the earthquake. On May 22,  Sr. Ena Bolaños, also in Syria from19 to 27 for a short visit, joined the young people in Damascus.
These are precious opportunities for the young people of this tortured land, which continues to need prayer and concrete support. It is always possible to send contributions and offerings, in the manner indicated on the Website of the FMA Institute, designating in the reason: Türkiye and Syria for the Earthquake Emergency.