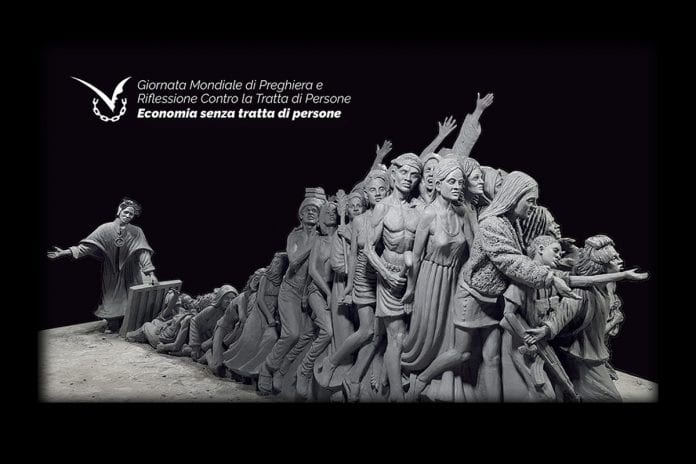 Rome (Italy). On 8 February 2020, the VII World Day of Prayer and Reflection Against Trafficking of Persons (GMTP) is celebrated, desired by Pope Francis who in 2015, encouraged the International Unions of Superiors General (UISG and USG) to promote it. The Day is celebrated on the date of the liturgical memorial of Saint Josephine Bakhita, a Sister from Sudan who was a victim of trafficking as a child and, canonized in 2000, has become a universal symbol of the commitment against slavery.
The Daughters of Mary Help of Christians in many parts of the world collaborate, networking with other Associations, to defend and generate life, welcoming the words of Pope Francis: "Let each of us feel committed to being the voice of these brothers and sisters of ours, humiliated in the their dignity" (Pope Francis: Angelus 8 February 2015).
To this end, the educational and accompanying activities of Vides International and of the Volunteer Foundation Youth in Solidarity FVGS are aimed at protecting the life, dignity, and rights of many children through projects and activities carried out with the help of many supporters who make it possible to guarantee that children can  grow up in a protected environment. Among the activities, distance support is one of the concrete means to guarantee a future for the most vulnerable children.
The theme of the Day this year "Economy without Human Trafficking", aims to highlight how one of the main causes of human trafficking is the dominant economic model, whose limits are increased by the Covid-19 pandemic. The victims of trafficking are, in fact, inserted into the gears of a globalization governed by financial speculation and 'below cost' competition, which feed the supply and demand for 'people to be exploited'. On the contrary, an economy without trafficking is an economy that values and cares for the human being, which includes and does not exploit the most vulnerable.
The theme was the subject of interviews and in-depth testimonials, uploaded on the YouTube Channel of the web site of the Day against Trafficking, including an interview with Sr. Alessandra Smerilli, FMA, Professor of Economics at the Pontifical Faculty of Education "Auxilium", Coordinator of the Economics Task Force of the Vatican Commission for Covid-19, who answers the question: "What is an  economy without trafficking?"
To celebrate the World Day of Prayer Against Human Trafficking , on 8 February  2021, the International Committee of the World Day, coordinated by Talitha Kum, the network of consecrated life against trafficking in persons of the International Union of Superiors General (UISG), organized an online World Marathon of prayer, which will be broadcast from 10:00 to 17:00 (Italian time) in live streaming on the  YouTube Channel of the World Day with translation into five languages. At 13.40 pm (Italian time) the video message of Pope Francis is scheduled.
In addition, it is possible to support the various initiatives that will take place on World Day on the social networks through the official hashtag #PrayAgainstTrafficking.