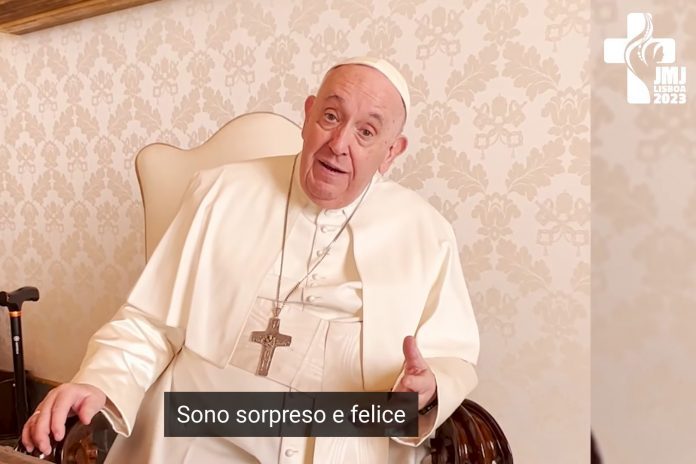 Rome (Italy). On 20 January 2023, with a video message, Pope Francis addressed young people preparing to experience World Youth Day, which will be held from 1 to 6 August 2023 in Lisbon, Portugal, expressing his amazement at the large number of registrations, and exhorting them to open their horizons and hearts to this experience.
Here is the full text of the Message:
Dear young people,
we are approaching World Youth Day, even if it is still a few months away, and there are already 400,000 young people registered. I am surprised and happy that so many young people will come because they need to participate. Someone will say, 'I go for tourism'. But the young people come because, deep down, they are thirsty to participate, to share, to tell their own experience, and to receive the other's experience. They thirst for horizons.
The young people, 400,000 of whom have already signed up, are thirsty for a horizon. In this meeting, on this Day, learn to always look to the horizon, to always look beyond. Don't build a wall in front of your life. Walls close you in, the horizon makes you grow! Always look to the horizon, with your eyes, but above all with your heart! Open your heart! To other cultures, to other boys and girls who also come to this Day.
Get ready for this: to open your horizons and your heart! And thank you for already signing up, well in advance. We hope that others will follow your example too! May God bless you and Our Lady keep you. Pray for me; I pray for you. And don't forget: no to walls, yes to horizons! Thank you.
At little over six months until the event, the young people, registered through the Dioceses, Movements, and Associations, are preparing with formation sessions on the theme of WYD 2023, "Mary arose and went with haste" (Lk 1:39), and organizing with enthusiasm and creativity, solidarity initiatives to support travel expenses.
Registrations are still in progress, and the Holy Father hopes that many more young people will listen to their "thirst to participate, to share, to recount their experience, and receive the experience of the others."
To participate as a member of the Salesian Youth Movement, it is necessary to register through one's own SYM group of reference. The registration of SYM pilgrims on the World Youth Day Lisbon 2023 platform will be carried out by the organization WYD DON BOSCO 23.