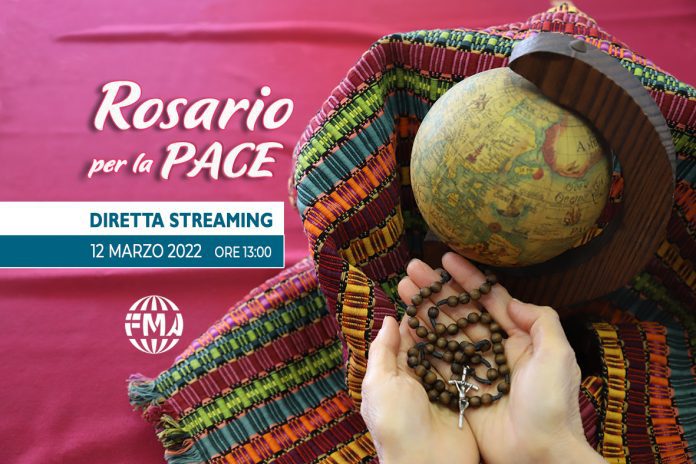 Rome (Italy). In the shared reflection during the winter plenum with the General Council and in the face of the worsening international situation, with a Letter, the Mother General of the Institute of the Daughters of Mary Help of Christians, Sr. Chiara Cazzuola, invites the FMA and the Educating Communities to pray together a Rosary for peace in the world on 12 March 2022, which will be broadcast in live streaming.
Dearest Sisters and members of the Educating Communities,
We carry in our hearts the conviction that peace is built with peace. Only a process of reconciliation based on respect for the rights and duties of each citizen and of each of the parties can lead to peace. Education and the proclamation of the Gospel that enlightens the mind, changes the heart, and moves the will to the common good is increasingly the way we want to spend ourselves "to the last breath". In this historical moment, more timely than ever is Don Bosco's program of educating "Good Christians and honest citizens".
As believers, we are called to denounce evil in any form and in any situation that it manifests itself, but we are also required to favor, always and in any case, forgiveness, reconciliation, and above all, the honest and sincere recognition of sin (starting with those personal) which contributes to the spread of evil and violence.
I thank all of you for the many forms of solidarity and support for the population and communities of the Sisters of Ukraine. Prayer unites us and nourishes hope, helping us to find concrete and constructive ways to foster peace and reconciliation.
With the Sisters of the Council, I propose that you pray the Holy Rosary together at 13:00 (Italian time) on Saturday 12 March. We will pray for peace and for an end to hostilities in every part of the world. It will be yet another public and unanimous manifestation of our trust in the powerful intercession of Mary Help of Christians, of our educational commitment to peace, and of an effective denunciation of all forms of violence and injustice.