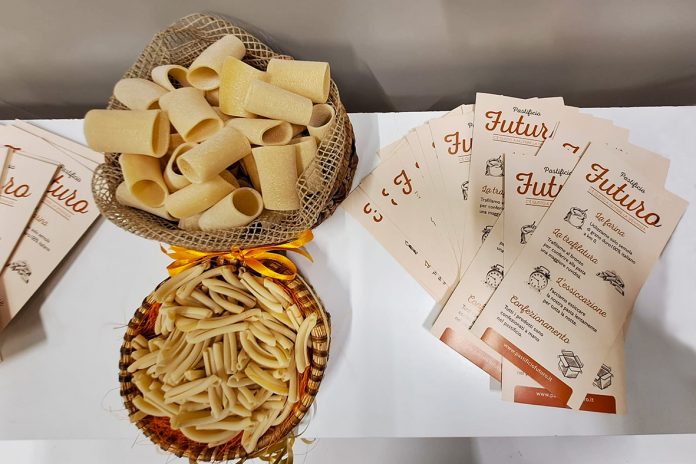 Rome (Italy). On 10 November 2023 – in the presence of the Cardinal Vicar of Rome Angelo De Donatis; of Archbishop Giuseppe Baturi, Secretary General of the Italian Episcopal Conference (CEI); of the Mayor of Rome Roberto Gualtieri; of the President of the Lazio Region Francesco Rozza; of the Director of the Rome Juvenile Justice Centre; of Fr. Marco Pagniello, Director of Italian Caritas; and of three appreciated chefs – the "Future" pasta factory was inaugurated.
The "Future" pasta factory is located within the complex which also includes the Casal del Marmo Penal Institute for minors in Rome. For nine years, a Daughter of Mary Help of Christians of St. John Bosco Province (IRO), Sister Aurora Consolini, serves as a volunteer.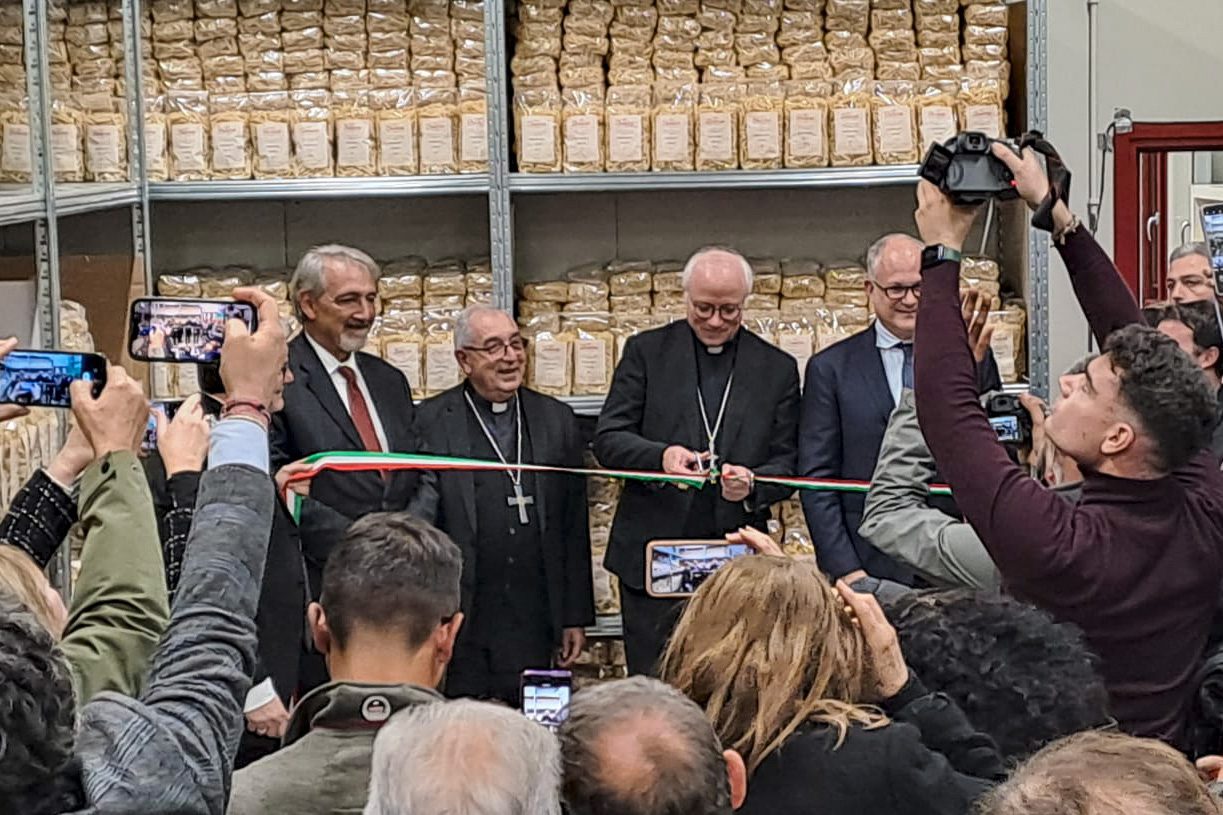 The Pastificio is an artisanal workshop where pasta is produced and where we try to offer a new opportunity for a future to some young people who, for various reasons, ended up in the penal circuit at a very young age. This project was carried out thanks to the support and funds of the CEI and the Italian Caritas, as well as the support of the Department of Juvenile and Community Justice which entrusted, on loan for use, a structure within the prison, then completely rebuilt.
This project was born about 10 years ago, in 2013, after Pope Francis' first visit to the Penal Institute. On that occasion, the Holy Father exhorted the children, "don't let your hope be stolen," and the chaplain at the time, Father Gaetano Greco, allowed himself to be provoked by this exhortation and started this splendid adventure.
What does the "future" have to do with pasta? Mohamed, one of the workers who have been working there since 26 April 2023, the day of its opening, explains it. "This pasta factory gives a future to young people like us, because young people who are criminals sometimes don't want to be that but are forced because, if they have erred and then they find nothing or no one to help them to them get themselves out, they are forced to stay there."
As Mohamed says, the "Future" pasta factory is nothing more than a training and work opportunity to be able to accompany young people who come from the Penal Institute. This new experience aims to teach them a job to then allow them to build a future for themselves.
The pasta factory is located within the prison area, but is outside the prison, precisely to give the idea that this place wants to be a bridge between the inside and the outside, between the past and the future of these young people. The objective of this work is not only to produce high quality pasta but also to employ the greatest number of young people in order to be able to train them for work and try to accompany them in their reintegration into society and avoid repetition of the crime.
It is managed by the Cooperative Gusto Libero, which includes not only the chaplain of the Penal Institute but also a series of professional and educational figures. Sister Aurora, a volunteer member of the Cooperative, is the educational manager of the Project. She maintains contacts between the prison and the pasta factory and, through personal interviews, identifies and recommends the youth who are suitable and ready for this experience.
At this moment, three young people have been hired with regular contracts. There is a girl currently detained, who goes out every day to come to work under article 21, i.e., without the accompaniment of the penitentiary police; and two other boys, both ex-convicts, who are finishing serving their sentence outside, on an alternative measure. Each of them has a regular contract, with paid holidays and sick leave, with the thirteenth salary, and with all the privileges of a fixed-term contract, which can later be transformed into an indefinite period for those who want to continue this path and for the most deserving. Around 20 youths from the juvenile criminal circuit will be able to work inside the pasta factory, coming both from prison and from penal social services.
Why was pasta chosen? Sister Aurora responds thus. "First of all, because it is a simple product, on everyone's table. This is how our young people are: simple and spontaneous, sometimes without too many filters, but sincere. Furthermore, the process for making pasta is long. It requires good quality raw materials, which however must be carefully dosed. Thus, with our young people, we must learn to carefully balance affection and rules, as Don Bosco would say 'reason and loving kindness'.
And then the pasta making process takes time; it takes attention and so too does the life of these young people. It takes a long time to discover oneself and rediscover the beautiful qualities that each of them carries within themselves. The detention period should be precisely the time in which young people are helped to get to know themselves, look inside themselves, to take responsibility for their own mistakes, and to look for the beautiful part in themselves. Also, with the help of reliable adults, to see the 'point accessible to good' of which Don Bosco speaks, to then return to desiring something beautiful for the future.
To do this, as in making pasta, takes sacrifice which in the end leads to great satisfaction. This new experience is intended to be part of this process that the young people are called to do once they enter the Penal Institute. It is a concrete sign of trust and accompaniment to help them dream again and discover the good in themselves. It is a work of prevention and offering a second chance."
The pasta from the Pastificio "Future" is made with fine wheat semolina, coming from crops exclusively in Lazio, bronze drawn and processed with slow drying. Furthermore, the entire process is followed by hand by the young people. Even the packaging and labeling of each package of pasta is done by hand, precisely to give a sense of the work and to be able to include the greatest number of young people. The pasta factory is ready to produce 2 tons of pasta per day although, for the moment, around 2 tons are being produced per week in order to be able to first train the youth who in turn, will become the trainers of those who follow.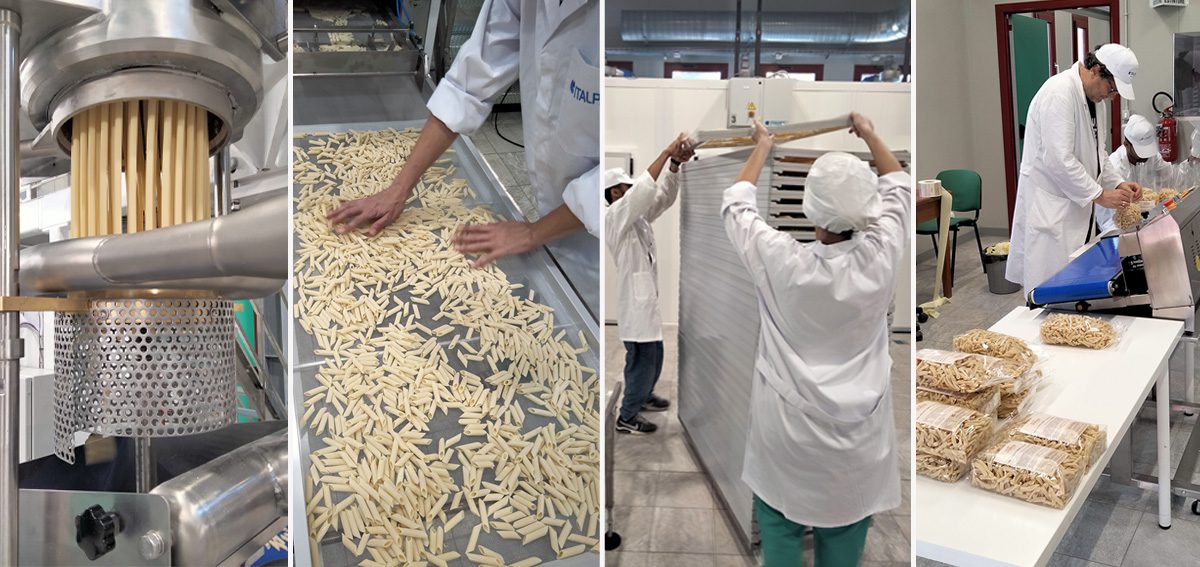 The "Future" Pastificio also wants to be a meeting place. A classroom was built inside the structure overlooking the production area, in the desire to open this structure to the middle and high schools of Rome once a week. In fact, it was thought that this experience of meeting between school children and young workers could be a formative and preventive experience. Children from schools will be able to see the entire pasta making process and meet children of their age, or slightly older, who after experiences of defeat are looking for renewal.
"This experience wants to be a lifesaver for the youth who, after having missed the target of life, want to get back on track, especially after having experienced the lack of air… We want to offer lifesavers for their lives so that they can have an alternative to the context suffered or chosen and can feel like a family in positive relationships and find a home. Through honest and paid work, they can put their beautiful personality to good use in society, because the life of every person who has made a mistake cannot be summed up in the mistake but must blossom in a constructive way," are the very 'Salesian' words pronounced by Msgr. Baturi at the inauguration.
"For us as Church, this is a constant commitment to put the Gospel of Jesus into practice: loving without judging, looking at the other who may have made a mistake but not considering them a mistake, because Jesus grants salvation to ALL," concludes Sister Aurora.