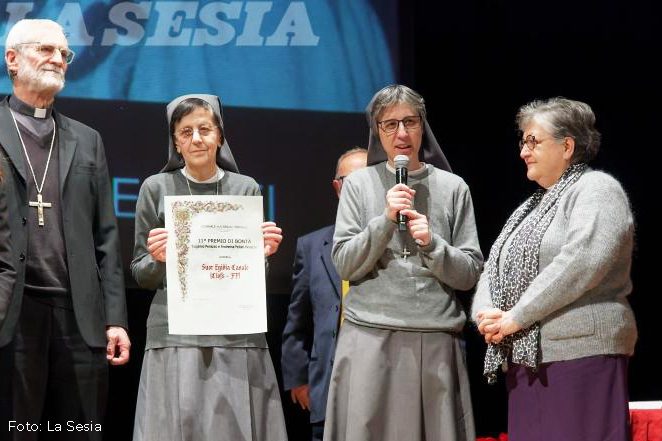 Vercelli (Italy). On 8 December 2022, on the Solemnity of the Immaculate Conception, at the Civic Theater of the city of Vercelli, the "Premio di Bontà" was presented to Sr. Egidia Casale, Daughter of Mary Help of Christians of Mary Help of Christians Province (IPI).
The "Premio di Bontà" is an initiative organized since 1946 by the local biweekly newspaper La Sesia, in recognition of people or groups who have distinguished themselves as "good citizens", recommended by the readers of the newspaper and chosen by a commission made up of the Prefect, Mayor, Archbishop, Publisher, and Director of the newspaper, and by the representatives of the families who make the prize available. The appointment brings together every year, in the sign of solidarity, the families and entities of the territory.
Among the thirteen examples of goodness (plus a special prize), presented during the afternoon by the Director of La Sesia Roberto Ponte, with the journalist Francesca Siciliano, Sr. Egidia Casale, FMA, Director of the Ciofs-Fp Professional Formation Center in Vercelli, was awarded, in the presence of the Archbishop of Vercelli Msgr. Marco Arnolfo, with this motivation:
"For having been able in her daily activity to accompany the journey of dozens of students in their scholastic path aimed at professional preparation, supporting them in their human growth with the ability to accept their needs, supporting them in personal difficulties with constant presence and strength that give the enthusiasm to see their expectations fulfilled in the Salesian pedagogical spirit."
The Provincial of the IPI Province, Sr. Emma Bergandi, expressed her gratitude for this award as follows, "We are very happy with this acknowledgment given to Sr. Egidia and, with her, to the CFP of Vercelli and to the Community which every day welcomes and accompanies these young people! On this December 8, the 150th anniversary of the Institute, it is a particularly significant sign of how in our CFPs and in all our Educating Communities so many Bartolomeo Gabelli's continue to find the welcome of those who tell them, 'You are a friend of mine' and succeed to snatch a smile by asking, 'Can you whistle?' Thank you, Sr. Egidia, for your presence and for your attentive service to the young people of the Professional Formation".