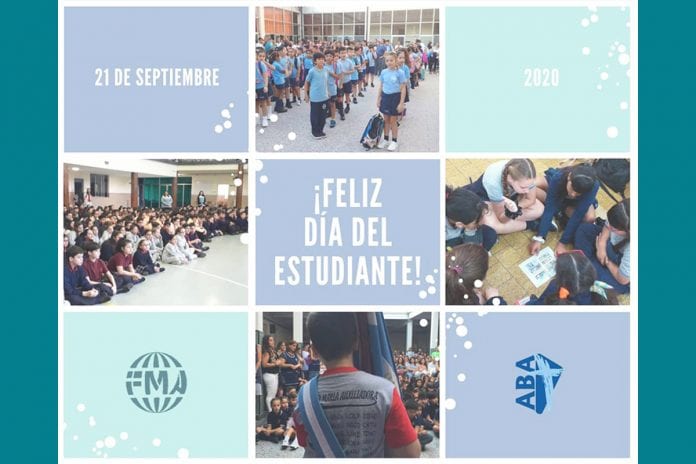 Buenos Aires (Argentina) In September 2020, initiatives were held in all the schools of the Daughters of Mary Help of Christians in the Argentina Province of St. Francis de Sales in Buenos Aires (ABA) to celebrate Education Month.
In Argentina, September is traditionally considered Education Month with three significant dates related to the world of education: September 11, Teacher's Day, the date of the death of Domingo Faustino Sarmiento (1888), President of Argentina who in his mandate emphasized education; September 17 is Professor's Day, in memory of the death of Prof. José Manuel Estrada (1894) who, in addition to being a teacher, was also an historian, speaker, writer, and journalist, demonstrating great passion for education and learning .  Since 1902, Student Day has been celebrated on September 21, at the initiative of a student and president of the Student Center of the Faculty of Philosophy and Letters of the University of Buenos Aires.
In previous years in the FMA Schools, these dates were characterized by days of celebration, with educational activities other than ordinary school programming, and initiatives in squares and parks, but this year the health emergency due to the Covid-19 pandemic has required teachers and students to celebrate them online.
The Schools of the ABA Province have published the works carried out by students and teachers during the month of September on their respective Facebook Pages:
Teacher's Day:
Mary Help of Christian's School in Río Gallegos
Mary Help of Christian's School in Puerto Deseado
Professor's Day:
Mary Help of Christian's School in Bernal – Buenos Aires
Student's Day:
Mary Help of Christian's School in Mar del Plata – Buenos Aires
MAry Help of Christian's School in Río Grande – Terra del Fuoco