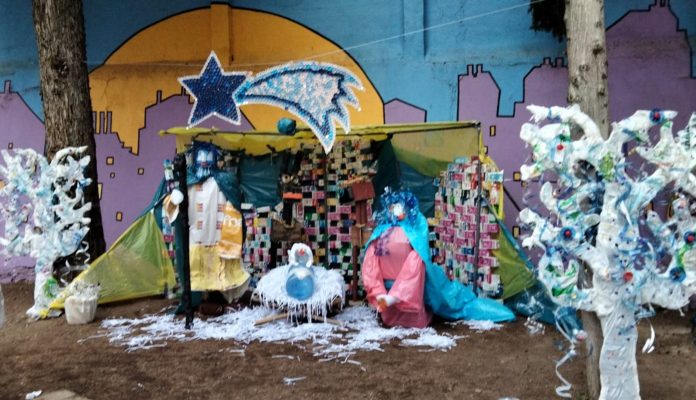 Saragossa (Spain). Pupils and students of Mary Help of Christians School of the Daughters of Mary Help of Christians of Mary Help of Christians Province (SPA), as part of the school project on the care of the common home, created a nativity scene with life-size characters, built entirely with recycled material.
Children, teenagers and young people from all sectors, from Kindergarten to Professional Training, coordinated by the School's Pastoral Team with the contribution of art teachers, procured the necessary material to represent the Nativity and created the statues of the characters.
Early Childhood pupils made the star, Primary pupils made the Three Wise Men, and the older ones made the Christmas tree. As part of a Learning and Service Project based on the story, "The prince and the toymaker" they delved into linguistic material and proposed a solidarity market so that all children could have a toy for Christmas.
Interviewed by the Spanish religious information magazine Vida Nueva, a Primary School teacher explained that during the months preceding the creation of the creche, the students carried out activities related to plastic and waste. One of the activities was a visit to the entrance to the school, where the waste collected in the school complex is sorted every day, to make them aware of the environmental impact of their consumption.
This experience suggested the idea of making a nativity scene with recycled packaging in which everyone was involved, with the aim of raising awareness among pupils on care for the environment and the whole planet.
Source: Vida Nueva