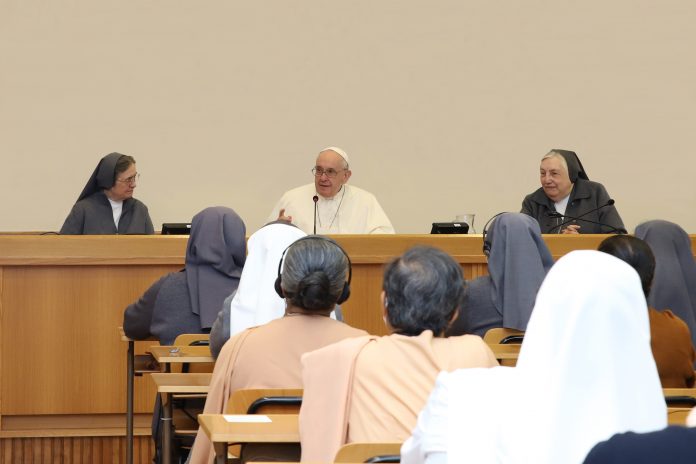 Rome (Italy). March 19, 2022 marks the 9th anniversary of the beginning of the Petrine Ministry of Jorge Mario Bergoglio. Elected on 13 March 2013, Pope Francis began his pontificate as the 265th Successor of Peter by celebrating Holy Mass on the Solemnity of  St. Joseph in the churchyard of St. Peter's Basilica in Rome.
In his first homily, dedicated to the patron saint of the universal Church, some attentions and key words of his pontificate already emerge: care, service, compassion, kindness, tenderness … "Let us never forget that true power is service and that even the Pope, in order to exercise power, must enter ever more into that service that has its luminous summit on the Cross," he said, and concluded by relying on the intercession of the Saints and the prayers of all the faithful, "I ask for the intercession of the Virgin Mary, of Saint Joseph, of Saints Peter and Paul, of Saint Francis, so that the Holy Spirit may accompany my ministry, and to you all I say: pray for me!"
On the occasion of this important anniversary for Pope Francis, who on 22 october 2021 visited the Chapter Assembly gathered in Rome at the Generalate of the Institute of the Daughters of Mary Help of Christians for the 24th General Chapter, Mother General, Sr. Chiara Cazzuola, with the Sisters of the General Council and on behalf of the FMA present in the five Continents, she reached the Holy Father with a letter to express gratitude and guarantee prayer:
"We thank the Lord for these nine years given to the Church and to the whole world with faith and great hope, with love and for love. Through your Magisterium, you penetrated into the hearts of brothers and sisters, adults and young people, inviting everyone with the heart of a Father and a Shepherd to gestures of solidarity, fraternity, sharing with the poorest and most defenseless; to gestures of peace and humanity towards those suffering and waiting for a present and a future illuminated by the light of the Resurrection! Every word of yours is for us a precious seed of hope, of new life, because it is accompanied by concrete choices made in the spirit of the Gospel".
Mother Chiara then, recalling the Pope's constant appeals for peace, especially in Ukraine, assures that "every day we will continue to 'implore from God the peace that humans alone cannot achieve and build', as you told us in the homily of the Ash Wednesday".
The letter ends with a commitment for each Daughter of Mary Help of Christians, called to filial adhesion to the Holy Father and his Magisterium, following the example of Don Bosco's and Mother Mazzarello's love for the Pope:
"Your Holiness, we pray every day for you, especially to Mary Help of Christians, whom Saint John Bosco invoked as the Madonna of difficult times. May Mary, Mother of the Church and of all peoples, bring consolation and profound joy to your heart".