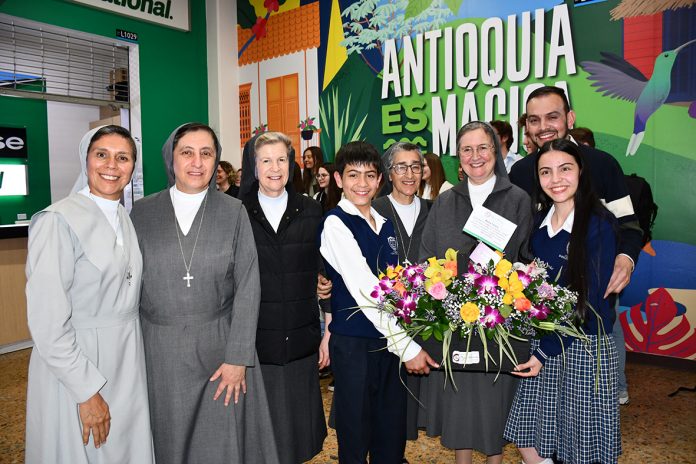 Antioquia (Colombia). On 11 April 2023, at 19:30 local time, the Superior General of the Institute of the Daughters of Mary Help of Christians, Mother Chiara Cazzuola, arrived at José María Córdova international airport in Rionegro, Antioquia, Colombia.
To welcome her were the four Provincials of Colombia: Sr. Cecilia Camacho of Our Lady of the Snow Province (CBN); Sr. Edith Franco of Our Lady of the Rosary of Chiquinquirá Province (CBC); Sr. Sara Sierra, of Mother Mazzarello Province (CMM); Sr. Celmira Serna, of Mary Help of Christians Province (CMA); and various FMA from some houses in Medellín.
With joy and emotion, a family from Mary Help of Christians of the Sanctuary School, Antioquia, representing Colombian families, greeted Mother Chiara with a basket of orchids typical of the Antioquia region.
Upon arrival at the Mary Help of Christians Provincial House of Medellín (CMA), she was welcomed by the Sisters of the Community and, at the entrance, she was able to admire the variety of colors of a beautiful 'silleta', a wooden and rope frame decorated with typical flowers of this land, with the inscription 'Bienvenida Madre'. The Postulants then welcomed her by symbolically handing her the keys to the Province and the itinerary of her visit.
The day ended with a moment of fraternity with all the FMA of the Provincial Community, which Mother cheerfully sent away with a resounding "good night" in Spanish, to which everyone joyfully applauded.
On 12 April, in the Chapel of the CMA Province House, Medellín, the Eucharist of welcome to Mother Chiara was celebrated, presided over by Fr. Luis Fernando Valencia Mosquera, Provincial of San Luigi Bertrando Province (COM) of the Salesians of Don Bosco of Medellín, in the presence of the four Provincials of Colombia and the FMA of the Houses of Medellín (CMA and CMM).
On the occasion of the World Feast of Gratitude, which will be held in Bogotá on 26 April 2023, Mother will visit the four Provinces: from 11 to 16 April, the CMA Province; from 16 to 19 April, the CMM Province; from 19 to 25 April, the CBC Province; from 25 to 30 April, the CBN Province. On May 3 Mother will then return to Rome, Italy.
Photos: Flickr FMA