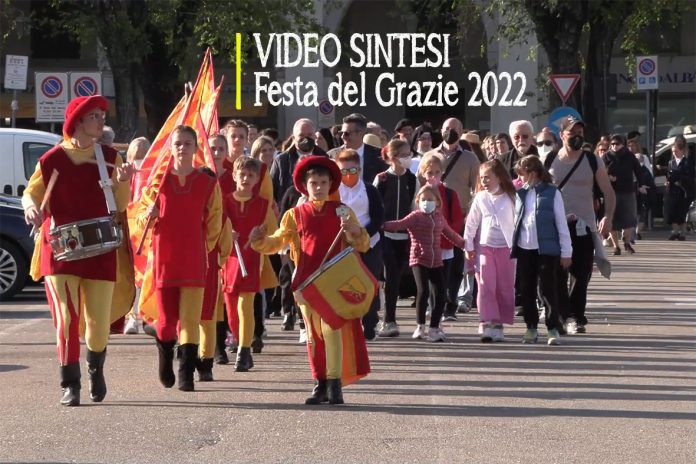 Rome (Italy). From 24 to 26 April 2022, in Piedmont, at Turin, Mornese, Nizza Monferrato, the World Feast of Gratitude was held with the theme "They are my daughters". The event of the 150th anniversary of the foundation of the Institute of the Daughters of Mary Help of Christians (1972-2022) made the festival program extraordinary, with a visit to the places of the Institute's origins, steeped in historical memory and in the heart.
The preparation videos, the live streaming, and the filming of the various moments, were handled with professionalism and competence by the team of the young people of the Press and Social Communication Office of Mary Help of Christians Circumscription of Piedmont and Valle d'Aosta (ICP), coordinated by Fr. Moreno Filippetto, a Salesian of Don Bosco, who made a video summary to remember the most moving words and moments lived during the days:
The Feast was a motive of gratitude to the Lord for the animation and government service of Sr. Chiara Cazzuola, Superior General of the FMA Institute, 10th successor of Mother Mazzarello, welcomed in all places with joy and affection by young people, children, by the FMA, by civil and ecclesial authorities, by the members of the Salesian Family, and by the laity present at different moments.
The FMA of Mary Help of Christians Province (IPI), which hosted the feast, took care of the logistics, transfers and every detail with attention and tireless work, allowing Mother, the Councilors, the Provincials of Europe, the young people in Formation who participated in the three days, to live all the events with intensity and amazement.
The Eucharistic Celebrations of the days were presided over: on 24 April in Turin, in the Basilica of Mary Help of Christians by the Provincial of the Salesians of the ICP Circumscription, Fr. Leonardo Mancini (homily);on 25 April, in Mother Mazzarello Shrine in Mornese by the Vicar of the Rector Major, Fr. Stefano Martoglio (homily) and at the end, the gratitude of Mother Chiara; on 26 April in Nizza Monferrato, by the Bishop of Asti, Msgr. Marco Prastaro, followed by Mother's thank you.
Mother Chiara was interviewed on several occasions, including the column A coffee with Mother Chiara Cazzuola edited by Fr. Moreno Filippetto and in Nizza, by the journalist Caterina Cannavà of the Regional TG of RAI (interview), occasions to speak about the 150th anniversary of Institute, of young people, of vocations, and of the Salesian charism.
In one of the interviews, Mother expressed her gratitude for the experience of these days of celebration which put her in contact with the reality of the Institute, 'affective' and not only effective, "the need to say thank you and feel close, with representatives from all over the world through the Novices. You aroused in me a sense of wonder, of gratitude to feel their joy".