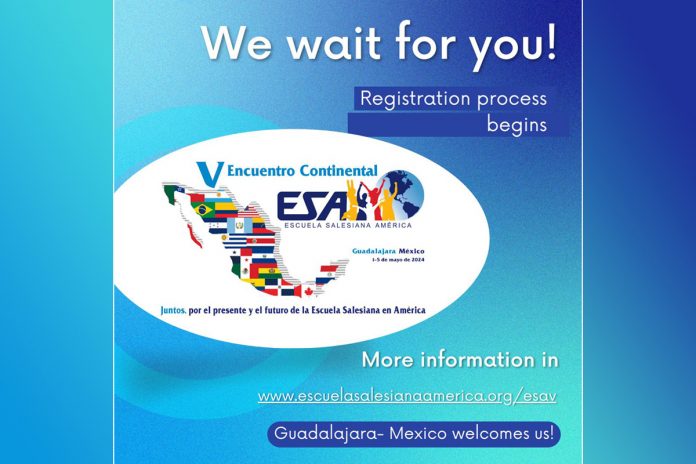 Rome (Italy). On the 30th anniversary of the Salesian School in America (1994-2024), the Youth Ministry Sector of the Daughters of Mary Help of Christians and the Youth Ministry Dicastery of the Salesians of Don Bosco, together with the ESA Central Commission, propose the 5th  Continental Meeting of the Salesian School in America (ESA V) on the theme: "Together, for the present and future of Salesian education in America," with the aim of updating education in different contexts, strengthening the Salesian educational leadership committed to guarantee young people comprehensive education.
The meeting will be held from 1 to 5 May 2024, at the Chapalita Institute, in Zapopan, Guadalajara, in the State of Jalisco, Mexico, and will bring together more than 350 participants from 25 countries across the entire American continent, with the involvement of the General Councilors for FMA and SDB Youth Ministry.
The participants are called to confront themselves to prepare for a present and a future full of changes and uncertainties, but at the same time full of opportunities, exploring new educational-pastoral strategies.
Using a participatory methodology, the event includes presentations by experts, round tables, thematic rooms, and socialization of good practices developed in the different Regions – CIMAC-Mesoamerica, CINAB-Andina, CICSAL-Southern Cone, Rede Salesiana Brasil, Daughters of the Divine Savior (HDS), and Daughters of the Sacred Hearts of Jesus and Mary (HH.SS.CC.) – in the Schools of the Salesian Family on the American continent.
The fifth edition of Guadalajara is in continuity with the process of the other editions: Cumbaya I (1994) and Cumbaya II (2002), Brasilia III (2008), Medellin IV (2017). Along the journey of meetings, the living reality of ESA is thus taken into consideration along 4 axes: attention to the educational needs of students in Salesian schools; the ongoing formation of the actors of the Educational Pastoral Community; the qualification of the pastoral educational proposal and the institutional management of school and professional formation centers; of the action guidelines, of the indicators, activities, and objectives.
"Considering the speed of political, economic, and cultural changes, we are called to dialogue with new realities, preparing ourselves to adequately form the new generations, especially after the pandemic, explains Fr. Claudio Cartes, ESA Representative of the SDB Youth Ministry Dicastery. From this perspective, guaranteeing the meaning of the Salesian School in America is an increasingly exciting challenge for those who, like us, live immersed in the daily educational mission.
The fast and constantly evolving world urges us to continue looking for new ways to reach the hearts of young people in their integral formation, so they can become the good Christians and honest citizens that the pastoral educational projects are seeking, putting into practice the Preventive System".