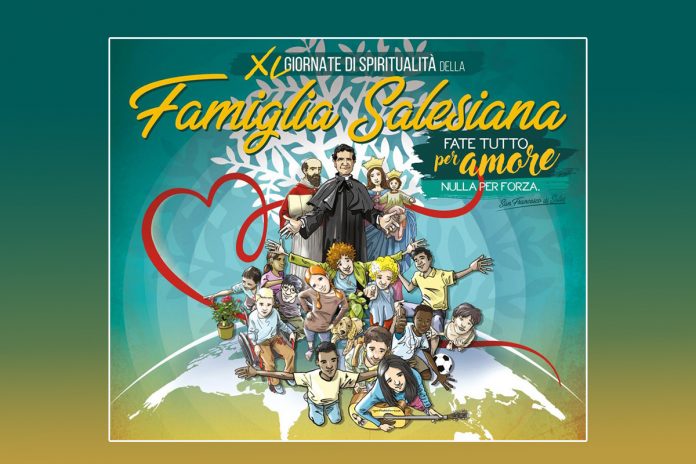 Rome (Italy). The Salesian Family Spirituality Days 2022 are approaching, now in their 40th edition, which will be held in mixed mode, in presence in Turin-Valdocco and with digital connections, from 13 to 16 January 2022.
The theme of the Days is inspired by the Strenna of the Rector Major of the Salesians of Don Bosco, Fr. Ángel Fernández Artime, for the year 2022, "Do everything for love, nothing by constraint", to study deeply the spirituality of the Saint who inspired Don Bosco in the foundation of the Salesian Congregation, Saint Francis de Sales, on the 4th centenary of his death.
The purpose of the GSFS is to revive Salesian Spirituality in its fundamental dimensions, suggested by the Strenna of the Rector Major, in a spirit of communion with the 32 Groups of the Salesian Family.
The 2022 edition of the Days will take place on two levels:
–    World, with international direct streaming from 13:00 to 15:00 (Italian time) from the Teatro Grande of Turin-Valdocco. The Rector Major will participate in these moments flanked by the world leaders of the various Groups of the Salesian Family. A limited number of representatives of the groups of the Salesian Family, in compliance with the anti-contagion norms in force, will participate in the activities carried out at the local level.
–    Regional, with a specific programs, schedules, and different methods, drawn up by the regional teams: America (a single team for InterAmerican and America South Cone); Africa and Madagascar; Mediterranean; North Eastern Europe; South Asia; East Asia, and Oceania.
The program of common activities includes:
13 January: presentation of the Days, solemn conclusion of the year dedicated to Fr. Paul Albera, second Successor of Don Bosco, and presentation of the Strenna by the Rector Major;
14 January: round table with the guests on the theme of the Strenna and a study on Salesian holiness;
15 January: sharing of the work of regional groups and presentation of two good practices (a youth experience and a lay experience);
16 January: Sunday Eucharistic celebration from the Basilica of Mary Help of Christians in Turin presided over by the Rector Major, Fr. Ángel Fernández Artime, and final farewell.
Fr Johan Lluís Playà, Central Delegate of the Rector Major for the Secretariat for the Salesian Family, invites us to prepare this important family event with prayer, "To be able to live the Days well it is essential to prepare our hearts for the encounter with Don Bosco and Mary Help of Christians. I also invite you to prepare with prayer these days of sharing, enrichment, Salesian charismatic renewal, and family spirit."
To participate online in the world-class activities of GSFS2022 you must complete the module for registration by 9 January 2022.
Per information: famigliasalesiana.org
Source: ANS