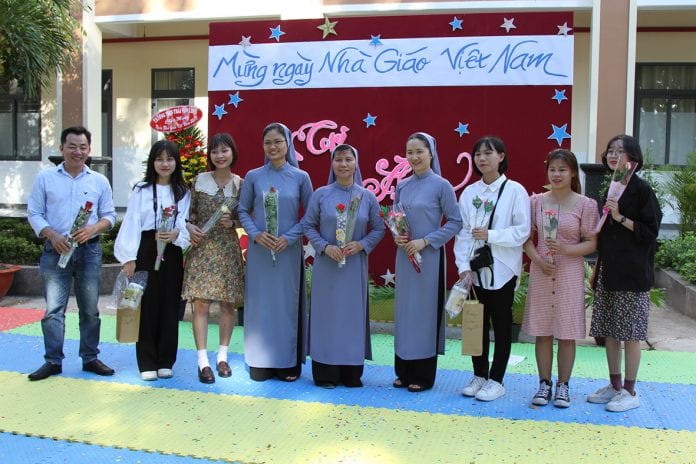 Tam Ha (Vietnam) On 20 November 2020, Teachers' Day was celebrated in the schools and educational centers of the Daughters of Mary Help of Christians of Mary Help of Christians Province of Vietnam (VTN). Since 1958, this anniversary has been significant for the whole country because gratitude is an important element of Vietnamese culture.
Parents and students expressed their gratitude to the FMA and to the teachers through shows, flowers, gifts, and promises to be good pupils. The school recognizes the teachers' dedication to the educational mission and their contribution to the formation of "good Christians and honest citizens".
Sports form part of this day because they improve the efficiency of teaching and learning and are an element of the integral growth of the person. At Thai Van Lung School – the School of the Community of St. Joseph of Tam Ha – Teacher's Day took place with various activities: folk games, competitions of the most ordered notebooks, dances. In the community of Binh Chau, the festival becomes an opportunity for teachers and students to spend a vacation day together.
The joyful and lively atmosphere of the feast is a reflection of the Salesian pedagogy of gratitude, which is integrated with the Vietnamese tradition, to lead young people to holiness through an educational journey that involves everyone, "an 'education village' where, in diversity, we share the commitment to generate a network of human and open relationships" (cf. Message of Pope Francis for launching the Education Pact).