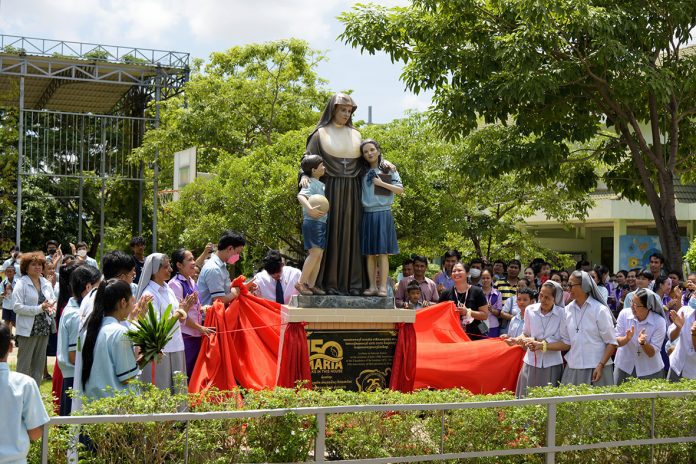 Phnom Penh (Cambodia). On the occasion of the 150th anniversary of the foundation of the Institute and the 25th anniversary of the presence of the Daughters of Mary Help of Christians in Cambodia, the Community of St. John Bosco of Teuk Thla, Phnom Penh, of the Province of Mary Our Help (CMY) inaugurated a statue of Mother Mazzarello in Don Bosco School.
Present in Cambodia for thirty years (1992), on 5 August 2022, the anniversary of the foundation of the Institute, the Daughters of Mary Help of Christians celebrated the 25th anniversary of their presence in the second house in Cambodia, in Teuk Thla.
Among the proposals of the organizing committee, there was that of having a statue of Mother Mazzarello for the School, in addition to that of Don Bosco already existing. The suggestion was unanimously accepted. Within two months, parents, students, and staff contributed generously, a former teacher designed the statue, and Fr. Vy Somnang, diocesan seminarian and former student of the Salesians of Don Bosco, helped to have it done in Vietnam.
The statue of Mother Mazzarello was inaugurated on 28 August 2022, during the day of gratitude for the parents of the students, at the end of the school year. A representation of the FMA, staff, teachers, students, and parents gathered in the area in front to unveil the statue together.
Fr. Suon Hang Ly, then the pastor of the church of Saints Peter and Paul in Phnom Penh Thymai, blessed the statue and the people present. The primary school children danced to express gratitude to God for all of His blessings. It was a moment of wonder and grace unique in the history of the School.
Since it was the School's feast of gratitude, the families stayed for lunch, eating food together on the grass or under the trees of the school facility. Mother Mazzarello's presence allowed families to live a day in the joy of being together in simplicity, feeling at home.