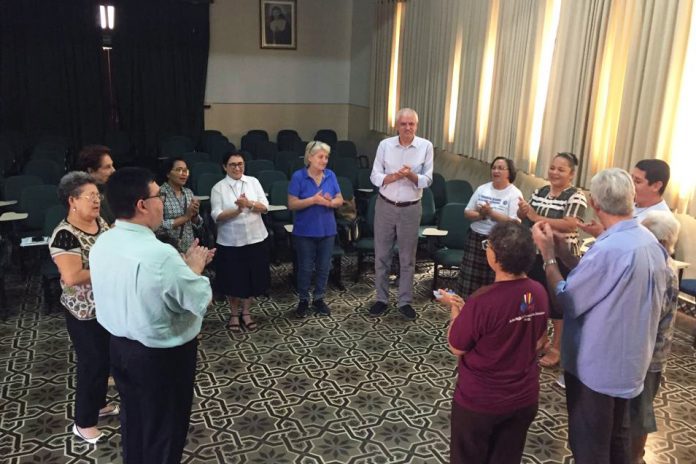 Campo Grande (Brazil). On 25 and 26 July 2022, the meeting of the Delegates of the Salesian Family of Brazil took place in Campo Grande, in Mato Grosso, at the Missionary Institute of St. Joseph, in which participated the Salesians of Don Bosco, the Daughters of Mary Help of Christians, Salesian Cooperators, SDB Assistants of Don Bosco Volunteers, representatives of Canção Nova, and the Sisters Mediators of Peace.
The organization and coordination were taken care of by the World Secretariat of the Salesian Family, attended by the Central Delegate of the Rector Major, Fr. Joan Lluís Playà, SDB; the World Delegate of SSCC and World Animator of ADMA, Sr. Lucrecia Uribe, FMA; and Mr. Antonio Boccia, World Coordinator of Salesian Cooperators (SSCC), already in Brazil for the 5th SSCC Regional Congress held in Campo Grande from 22 to 24 July.
The first day opened with the Eucharistic Celebration and Lauds, presided over by Fr. Isidoro Paula da Silva, SSCC National Delegate.
Later, Fr. Playà greeted the participants and explained the purpose of the meeting. He then invited the participants to introduce themselves and to share the reality of the Salesian Family in the various Provinces and Groups.
The "Identity Card of the Salesian Family" was the first topic presented, through the videoconference held by Fr. Pascual Chavez, Rector Major Emeritus of the Salesians of Don Bosco, who proposed a key to its interpretation. From this theme emerged reflections, sharing initiatives aimed at promoting the knowledge and vitality of the document.
The figure of the SDB Provincial Delegate and of the other Delegates and animators of the various groups of the Salesian Family was the subject of another formative moment, treated by Fr. Joan Lluís Playà, to consolidate the understanding of Nature and Functions, as well as the Fundamental Profile in this service. We also reflected on the Provincial and Local Councils of the Salesian Family, further clarifying their purpose, members, and other aspects.
On the second day, the theme "The laity in the Church and in the Salesian Family", had as speaker Mr. Antonio Boccia who, with clarity and on the basis of experience, aroused lively participation, with questions and reflections. To his intervention was added the contribution of the lay women and Salesian Cooperators, Alzira and Margarida who highlighted the need for religious and priests to accompany the laity in safeguarding their lay vocation.
The activities of the two days concluded with the evaluation and assumption of commitments by the participants, communications from the Secretariat of the SF, and mutual gratitude for the richness of the contents and the moments of fraternity lived together. The communion between the various representatives of the SF Groups was, in fact, consolidated through informal times of sharing and recreation, some outings, and in prayer together, united by the same Charism.