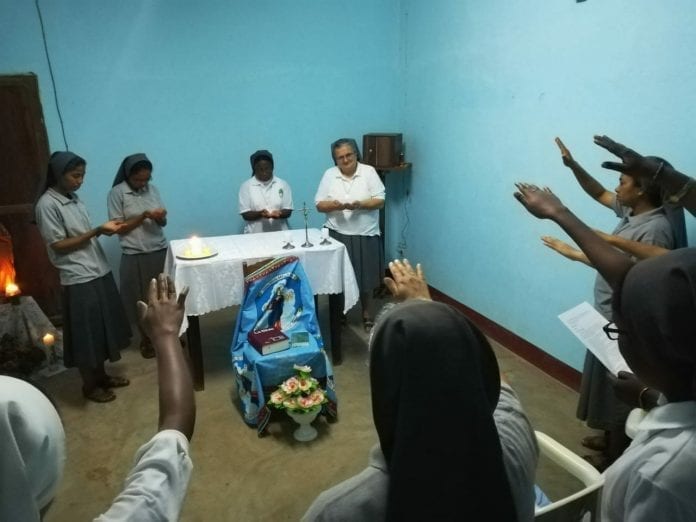 Port Berger (Madagascar). On 8 September 2018, the new community 'Mary Immaculate' was inaugurated in Port Berger in Mary of Source of Life Province in Madagascar.
In 1985, five FMAs began the Salesian female mission in Madagascar, where the Salesians of Don Bosco were already present in the Antananarivo capital.
The Lord and Mary Help of Christians, who always trace out the paths of their children, guided the FMA in another province and thus opened the first house in Mahajanga, on the north-west coast of the island. The FMA, until 8 September 2018, in Madagascar are present in six dioceses with seven communities.
Their mission is courageous, despite the long distances between one community and another and the difficulty of traveling many miles and sometimes even at night.
Among the many requests of the Bishops to the Provincial, a new community opens in the diocese of Port Berger (Antsiranana) with the name Mary Immaculate.
By the grace and providence of God, the presence of Mary Help of Christians anticipated the arrival of the Sisters because Monsignor Georges Varkey Puthiyakulangara, Bishop of the place, has a strong devotion to Mary Help of Christians and on May 24, 2013 inaugurated his new episcopal see. The statue of Mary Help of Christians was in the Cathedral on the day of the reception of the sisters.
In fact, 8 September 2018, the feast of the Nativity of Mary, is an important day for the Institute of the Daughters of Mary Help of Christians in the Province of Madagascar.
On September 6 and 7, 2018 our sisters arrived and prepared the opening celebration for the sisters of the new community that is being hosted at the Bishopric at the beginning.
The week before the inauguration of the community, the young people and the animators of Salesian Missionary Volunteer (VOSAMI) had already brought the Salesian spirit animating FY Don Bosco, the summer activities in Port-Berger.
Saturday, September 8, 2018, after the prayer of Lauds in the Cathedral of Notre Dame of the Assumption in Port-Berger, there was the Eucharistic celebration presided by Monsignor George Varkey Puthiyakulangara in the presence of other concelebrants, including Fr. Rakotondranaivo Harisoa José Gaston, Salesian of Don Bosco and responsible for Youth Ministry in Madagascar.
The bishop focused his homily on Mary Help of Christians and the dream for the arrival of the FMA Congregation in Port-Berger. This event gave joy to all the Christians in the Diocese of Port-Berger and in a special way to the Bishop who had awaited this moment. The Provincial, Sr. Bernadette Chongo, presented to the Bishop and the parishioners the four sisters who will animate the mission and thanked the Diocese for the welcome and trust given to the Congregation. After Mass, there was a time of celebration and conviviality.
In the evening there was the celebration of the inauguration of the new Animator, Sister Soszynska Krystyna, with the sisters who expressed their joy at being in communion with their Animator.