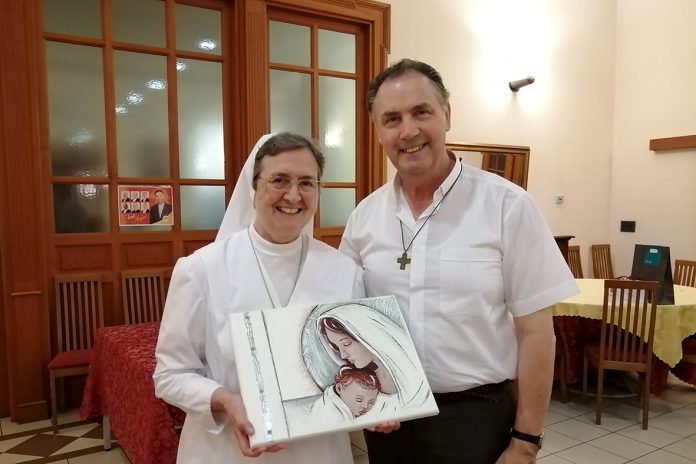 Rome (Italy). On 21 August 2022, the Salesian Family celebrates the birthday of the Rector Major of the Salesians of Don Bosco, Fr. Ángel Fernández Artime, animator and Center of Unity of the Salesian Family.
The prayer of the Daughters of Mary Help of Christians today becomes more intense and grateful for the gift of the Rector Major's life to the Salesian Family, to all the young people of the world, on the day in which is also celebrated the anniversary of the birth of St. Francis de Sales (1567), chosen by Don Bosco as Patron of the Salesian Congregation.
The Institute of the Daughters of Mary Help of Christians expresses its gratitude for the affection, care, and fraternity that Fr. Ángel shows on the various occasions of encounter with the FMA communities and with each individual sister. This paternal and fraternal attention is a sign of hope, of renewed fidelity to the Charism of Foundation. It is the commitment to look together at the present situation with optimistic realism, open to a new future to be lived and realized with and for young people, in communion with the Salesian Family.
In the prayer of all the FMA there is a special place for his parents, for the father who has already reached Heaven and for the mother who, despite her delicate health condition, continues to accompany him in the mission as only a mother can.
The wishes of the Superior General of the FMA Institute, Mother Chiara Cazzuola, and her Council:
"In this 150th anniversary of the Foundation of the Institute we feel you close, like Don Bosco, to support our fidelity and our commitment to be a living monument of gratitude to the Help of Christians, gratitude extended over time and, above all, Helpers among the young people".
Happy birthday and happy feast of life with heartfelt joy and gratitude!