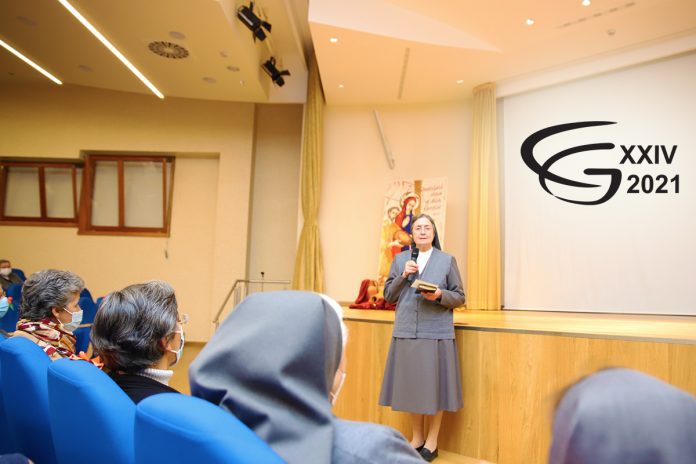 Rome (Italy). On 11 October 2021, Mother Chiara Cazzuola, Superior General of the FMA Institute, gives her first Goodnight to the participants in the XXIV General Chapter which ends on 24 October 2021.
Sr. Chiara Cazzuola is the Mother General of the Institute of the Daughters of Mary Help of Christians, 10th  Successor of the Co-founder St. Mary Domenica Mazzarello.
On 5 October  2021, after the election, she said to the Chapter Assembly: "It is a mission greater than I am. I trust in the Lord, and I entrust myself to Mary Help of Christians who I feel very present. For this I say Yes and I thank you for your trust.  I know it will be a path that we will travel together."
On 11 October 2021, Mother Chiara Cazzuola gives her  first Goodnight to the Chapter Members.
"Gratitude is the word that resonates in this time. Gratitude to the Lord for having called us to this wonderful Institute that Our Lady wanted and this is a certainty that accompanies us. Mary is present in our life, in the life of the Institute. Mother Mazzarello used to say, 'let us behave and live as if we had Mary beside us.'  And so it is. We feel Her truly alive and present among us and so this is my thank you, for this reason and for each of you … for the amazement, for the fraternity, for the welcome that we breathe every day and which makes the universality of the FMA Institute visible. This gives us strength to live in the present and to look to the future with the certainty that it is Mary who guides us, and is the source of our daily life … We are Helpers, starting with our communities, in Her we find the source and strength of our fidelity and being communities that generate life and vocational fruitfulness".