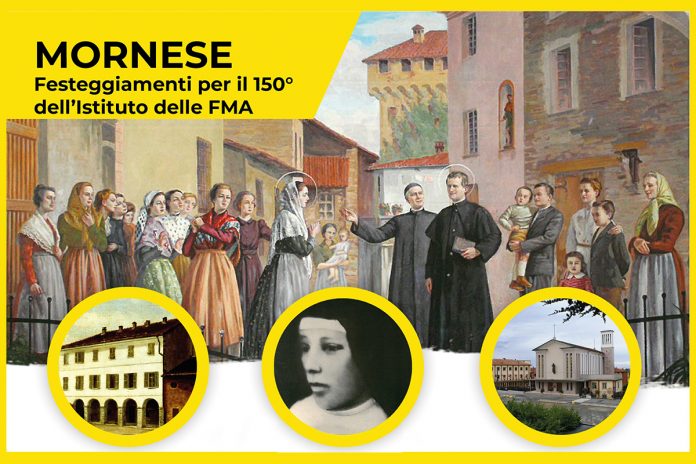 Mornese (Italy). Recently concluded the celebration for the World Feast of Gratitude – from 24 to 26 April in Turin, Mornese, Nizza Monferrato, the Educating Community of Mornese will express gratitude to the Lord for the 150 years of life and presence of the Institute of the Daughters of Mary Help of Christians, by celebrating St. Mary Domenica Mazzarello in the week of 9 to 15 May  2022, in which both her earthly birth and birth into heaven are commemorated..
On 9 May, day of the birth and baptism of Mary Domenica, there will be the renewal of baptismal promises by the faithful present during the Eucharistic celebration in the parish.
On 12 May, the FMA Community again joyfully awaits Mother General, Sr. Chiara Cazzuola, who will give a presentation entitled: "A dream come true", on the development of the Institute over 150 years, and will propose objectives and themes that emerged from General Chapter XXIV.
On 13 May, Liturgical feast of Mother Mazzarello, Msgr. Luigi Testore, Bishop of Acqui, will celebrate the solemn Eucharist in the Sanctuary of St. Mary Domenica Mazzarello of the Mazzarelli, in Mornese.
On 14 May, on the day of the birth of the Saint, the San Bernardino Choir of the Parish of SS. Martin and Gaudenzio di Novara, directed by Mrs. Maria Dina Bertotti, Past Pupil of the FMA, will offer a spiritual meditation with choirs and texts recited in the Mazzarelli Sanctuary (Flyer).
On 15 May, the Sunday Eucharistic celebration in the Mazzarelli Sanctuary will be presided over by Cardinal Domenico Calcagno.
The initiatives continue at a local level with the inauguration, on June 18 at the Collegio St. Mary D. Mazzarello, of a green area that will be dedicated to Fr. Domenico Pestarino, nicknamed by the people of Mornese as 'the Previn', Spiritual Director of St. Mary Domenica Mazzarello and the first Daughters of Mary Help of Christians.
The Community of St. Mary D. Mazzarello of Mornese, of the Province of Mary Help of Christians (IPI) hopes that the celebrations will leave those who want to participate with the renewed desire for a life that is holy and faithful to God, open to charity and hope in this difficult time, and in confident tension towards the one Good.