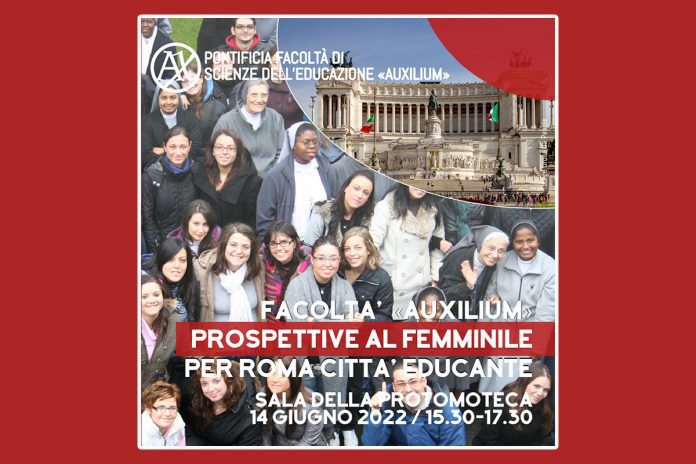 Rome (Italy). On 14 June 2022, in Rome, in the Hall of the Protomoteca in Campidoglio, the event on the theme Faculty Auxilium: feminine perspectives for Rome Educating City will be held, organized by the Pontifical Faculty of Sciences of Education Auxilium, in collaboration with the XIII Municipalities and XIV of the Municipality of Rome, to celebrate the 150th anniversary of the foundation of the Institute of the Daughters of Mary Help of Christians (1872-2022).
The event, which will be attended by authorities and representatives of social, political, cultural, and ecclesial Institutions, will be opened by the greetings of the Institutions of Roma Capitale and Mother Chiara Cazzuola, Superior General of the Institute of the Daughters of Mary Help of Christians and Grand Chancellor of the Faculty.
Starting from some historical data that document the contribution given by the Auxilium Faculty to education in different continents, with particular attention to the most disadvantaged young women, we will listen to the local institutions, Municipality XIII and Municipality XIV of the Municipality of Rome, where the Faculty is located, to identify the educational 'questions' emerging today.
At the round table, moderated by Andrea Zapparoli, expert in juvenile distress and addictions, Sabrina Giuseppetti, President of the Municipality of Rome XIII Aurelio, will speak on the theme Auxilium: the Faculty of the territory; Marco Della Porta, President of the Municipality of Rome XIV Monte Mario, who will speak about The presence of the Auxilium Faculty in the territory: a resource for a polycentric urban network; 150 years of history and the Daughters of Mary Help of Christians in Rome with the Auxilium Faculty will be the topic explored by Grazia Loparco, FMA, Professor of Church History at the «Auxilium» Faculty.
The presence of some Past Pupils of the Faculty; Maria Grazia Vergari, Elisabetta Marini, and Elisabetta Empler  who invest their skills and professionalism in the various socio-educational sectors, will stimulate the comparison with the challenges of the present and the search for new ways of reflection and prospects for intervention to strengthen the network between institutions, thus contributing to making Rome an "educating city", capable of offering growth journeys, even in the peripheral areas of the city, guaranteeing quality care and spaces for education.
Professor Piera Ruffinatto, FMA, Dean of the «Auxilium», will conclude by presenting the formative offering of the Faculty, characterized by the slogan "we cultivate the talent to educate", which highlights the basic choice of believing in education and its transformative power with a view to humanizing society, making available the best energies and collaborations to network with Institutions.
Source: pfse-auxilium.org