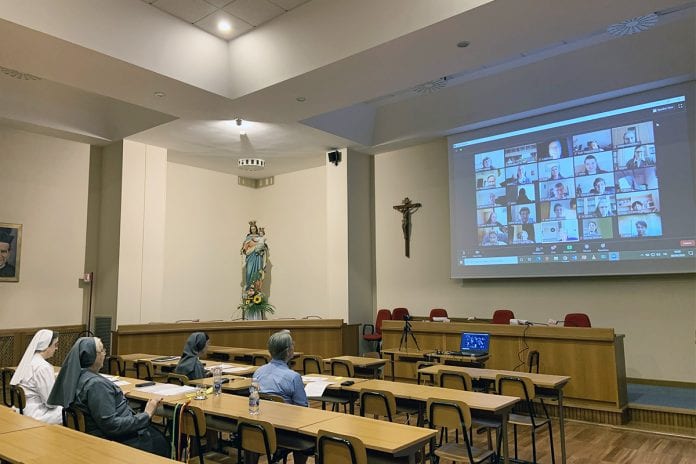 Rome (Italy). On 8 September 2020, on the Feast of the Nativity of Mary, the Middle East Europe Interprovincial Conference (CIME) is officially erected.
A significant moment for the 20 Provinces (ILO, ILS, IMR, IPI, IRO, ISI, ITV, AUG, BEG CEL, FRB, GBR, IRL, PLA, PLJ, POR, SLC, SLK, SPA, MOR) and the two Preprovinces (RMC and EEG). The three Interprovincial Conferences CII, CIEP, and CIEM, after many years of discussion, common research, reflection, prayer, discernment in the light of the Spirit, give life to the new configuration of their presence in the Middle East and Europe: CIME. A name that makes you dream, an appeal and a prophecy: to climb the "peaks of the mountains to achieve communion and unity among peoples, to heal the wounds from the Covid-19 Pandemic, to respond to youth poverty and the challenges of Contemporaneity.
The Celebration took place online in the presence of the Mother General of the Daughters of Mary Help of Christians, Sr. Yvonne Reungoat; the Vicar General, Sr. Chiara Cazzuola, CII Referent, the General Councilors Conference Referents, Sr. Maria Luisa Miranda (CIEP), and Sr. Paola Battagliola ( CIEM), the Provincials, and the Superiors of the Preprovince.
After the presentation of the journey (PDF) undertaken and carried out together since 2004 and listening to the Word of God, a gesture was made: the passage of colored ropes, representing every single Conference, which Mother wove and entrusted to Mary Help of Christians.
A request was then made for the erection of the new Conference, to which Mother General responded by reading the Decree of Erection.
In her message Mother Yvonne said: "The event we are experiencing constitutes a Kairos, a historical stage in the life of the Institute in the Middle East and Europe. The new Conference has a simple, agile identity under construction.  It is a place to broaden one's gaze, a prophetic sign in a divided world. It is a testimony of communion, fraternity, and mutual support, of belonging to the Institute, and a help to be prepared and preventive in the face of the challenges and paths that are opening up".
The purpose of the Conference is to make the overall journey concrete, to strengthen the vocational dimension, to create a network of interaction between FMA, lay people, and young people, to be formed in a mentality of communion in a synodal style.
After the celebration, which ended with the singing of the Magnificat, the moment of election of the members of the Presidential Council and of the Conference President followed.
The journey of CIME is entrusted to Mary, so that it may be a sign of her tenderness for the FMA, the Educating Communities, the young people, the laity, the families that comprise it.