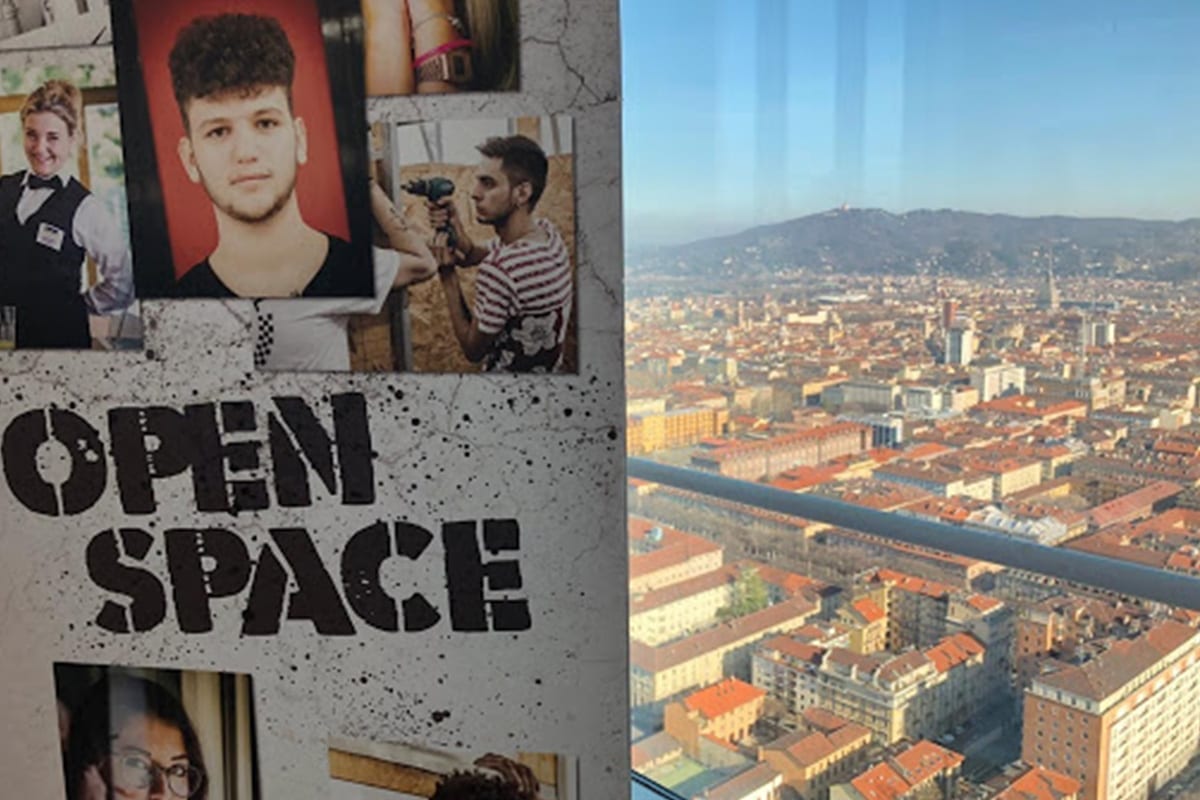 Turin (Italy). On February 19, 2020, the JobExpo exhibition was presented in the Piano 35 event space of the Intesa Sanpaolo skyscraper in Turin (Italy).
Over 300 young people from Piedmont between 15 and 29 years of age, selected for the OpenSpace Project, proposed by the CIOFS-FP Piedmont Training Agencies – Italian Center for Salesian Female Works – Professional Training – and Enaip Piedmont – National Acli Professional Education Body – and supported by the Piedmont Region, gave birth to JobExpo, a multimedia exhibition in which the young people relate to their peers, in an interactive and innovative way, the path of approach to some professions carried out during the program.
Progetto OpenSpace, aimed at young people aged 15 to 29, is a career orientation project. The participants, led by specialized operators and by trainers and experts in the sector, were invited to experiment with three spaces – JobSpace, DigitalSpace, SkillsSpace – places where they can increase their knowledge of some professions through interactive, deductive, and direct observation of methods in the environments of training and business centers to communicate, through multimedia products, what has been discovered and what has been learned about the professions analyzed.
During the orientation project, the young people went to discover some professions (Barista, Electrician, Beautician, Plumber, Receptionist, Hairdresser) with the ultimate goal of transforming this exploration into films, photographs, and short written texts to communicate to their peers. Through direct observation of the professionals, interviews with the experts, and visits to the companies, the young people were able to acquire more knowledge about the production sector of reference, learning about the operational and organizational contexts, the work processes, and the necessary equipment. We started with some questions "What do I know about this profession and what would I like to discover?" to understand then what it means to carry out a job, having as a final goal the construction of a story.
The young people had the opportunity to acquire more knowledge about the reference production sector, deepening their knowledge of the profession, of the operational and organizational contexts, work processes, and necessary equipment. The young people then created the "Job Card" for each occupation, transforming it into images and narrations to be communicated to their peers. At the end of the course they had developed a greater awareness of the use of digital devices and social media, acquiring the basic knowledge for creating videos and for interviews and, at the same time, strengthening skills such as problem solving, creativity, teamwork, communication, conflict management, and leadership, the most sought after resources in the world of work.