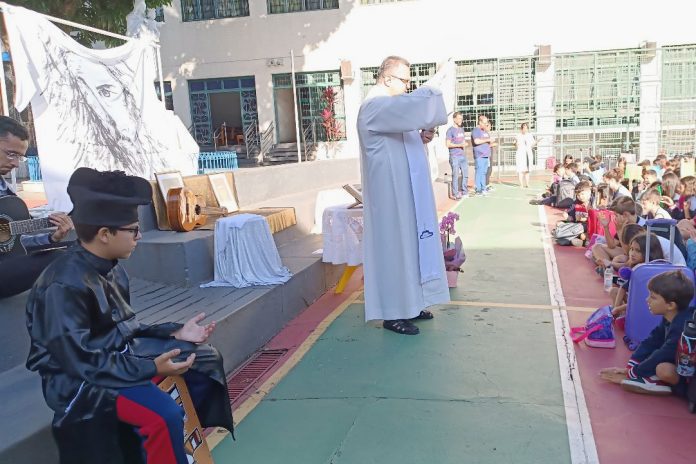 Goiânia (Brazil). On 31 January 2023, to celebrate the Feast of Saint John Bosco, father and teacher of children, adolescents, and young people, Mary Help of Christians Institute of Goiânia, of Mother Mazzarello Province (BMM), organized a celebratory moment with the blessing of the school pupils' backpacks. In fact, many schools and parishes in the Region have the habit of giving this blessing at the beginning of the school year, therefore the School decided to combine it with Don Bosco's celebrations.
Since it is a common event in the Archdiocese where the Daughters of Mary Help of Christians are present, the Vicariate for Education and Culture encourages this initiative and several priests are available for this service. The School thus invited Fr. David Pereira de Jesus, diocesan priest, parish priest of the university parish of St. John the Evangelist of Goiânia, brother of one of the educators of the School.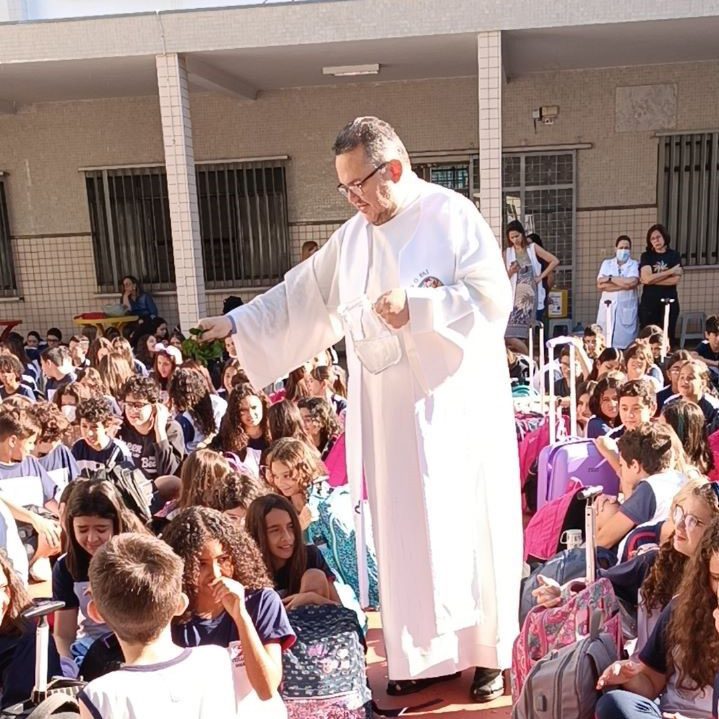 Fr. David explained to the children that the blessing imparted to the students on their backpacks is the blessing that God pours out, through the hands of Mary Help of Christians, on the school life of all the students. He also underlined that the celebration of Don Bosco Day is precisely indicated for this gesture, since the patron saint of children and young people is a model educator.
Reflecting on the Gospel passage that speaks of being the salt of the earth and the light of the world, the priest invited everyone to have the experience of truly being a person who gives good taste and brightens the lives of others.
To better introduce the students to this moment of prayer, the school's pastoral team enlivened the celebration with songs and a teenager, dressed as Don Bosco, aroused great joy among the little ones. Other teenagers led the prayers, with symbols referring to the Gospel.
At the end of the celebration, with the participation of nearly 700 pupils and educators divided into two shifts, all those present, including school supplies, were blessed with holy water. Some students then returned to their classes and others attended the screening of a film on the life of Don Bosco in the school auditorium.