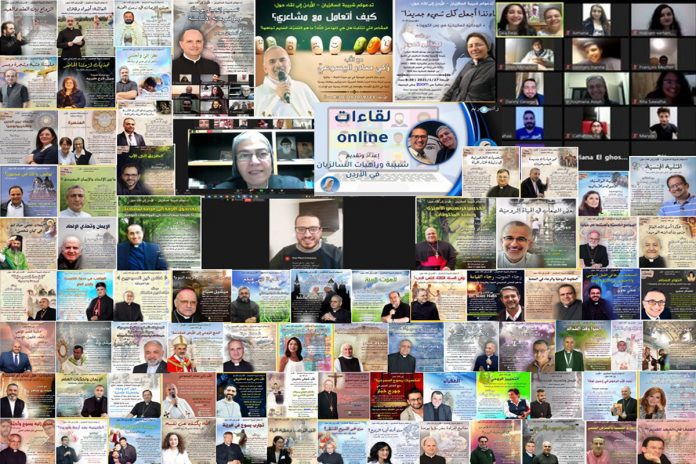 Middle East. From 20 April 2020 to 16 November 2022, through the online platform, more than one hundred and thirty online catechetical meetings were held, coordinated by a Daughter of Mary Help of Christians of the Adolescent Jesus Province (MOR), which involved Arab young people and adults belonging to more than 15 countries of the world.
The experience, born from a small group due to the Covid-19 pandemic, in order not to miss the opportunity to find themselves sharing the reasons for their faith and to help each other overcome the sense of bewilderment and loss of references due to isolation, then extended beyond expectations.
Sr. Joumana Aoun, FMA, together with some young people from Jordan, Palestine, Lebanon, Iraq, and with the help of technology, organized the online meetings on the Zoom platform, sending the link via WhatsApp groups. The objective of the meetings, which had authoritative contributions at the theological, biblical, psychological, moral, and social levels, was to lead to a believer's reading of everyday life in the light of the Word of God, especially with regard to the questions of meaning raised by the pandemic and its impact on the lives of young people.
"The journey of a thousand kilometers begins with one step. We started online meetings with a group of young people from Jordan, then the circle expanded to Lebanon and Egypt, and during one of these meetings a young woman asked if faith was in contradiction with science. Taking a cue from this question, we proposed a meeting on the theme "Science and Faith", inviting a philosophy professor to speak on the subject. Later, other lay professors of theology and sociology, bishops and priests accepted our invitation to participate, connecting from Lebanon, Syria, the Holy Land, Jordan, Egypt, and Iraq. The patriarch of Jerusalem, Msgr. Pierbattista Pizzaballa, and the former patriarch of the Holy Land, Msgr. Michel Sabbah also spoke".
The online encounters were also broadcast through an Arabic-language radio station, to reach more people.
Sr. Joumana continues her online apostolate with other groups, in particular with a group of girls from all over the Middle East, who have decided to embark on a path of vocational discernment. "I can conclude by affirming that this time of pandemic has not been a time of isolation, but the opportunity for an apostolic experience that has opened horizons to reach young people and other people to the ends of the earth".