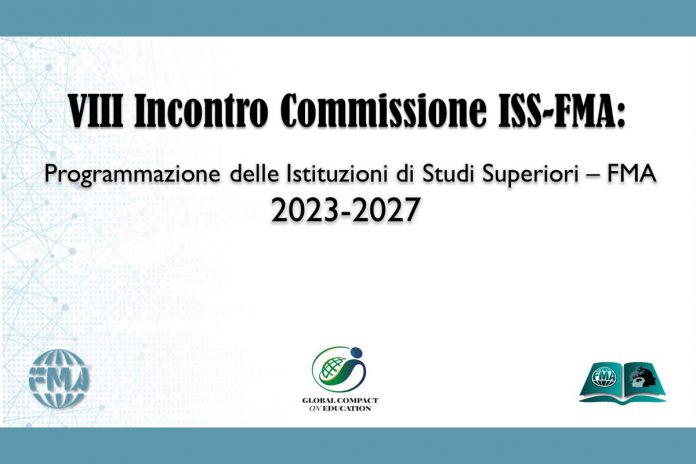 Rome (Italy). On 25 February 2023, the 8th meeting of the International Commission of the Institutions of Higher Studies (ISS-FMA), representing the six nodes of the ISS-FMA network present on four continents and sixteen countries, was held online in dialogue with the Youth Ministry Sector of the Institute of the Daughters of Mary Help of Christians.
The objectives of the meeting were: to work together for "Planning 2023-2027" with the aim of networking despite the wide diversity of the presence of the FMA in the countries; to build a culture increasingly inspired by the Gospel, Christian humanism, and the Salesian charism oriented by the Magisterium of Pope Francis and attentive to today's socio-cultural context; plan meetings with each Node of the network to socialize the Programming and a face-to-face meeting of the Commission in 2024, to initiate some steps and start thinking about the IV World Meeting.
The meeting focused on the analysis of the four Online Action Guidelines to consolidate the Salesian-style Global Educational Pact in the ISS-FMA:
Networking, to reinforce the identity, mission, visibility, to give educational and cultural impact and institutional sustainability to ISS-FMA.
Quality and significance of University Pastoral Ministry.
On-going formation of FMA and laity of ISS-FMA in the style of the Preventive System.
Integral Ecology – assumption of the Chapter Deliberation.
The main guidelines of the 2023-2027 Planning were born from a sapiential reading of the times we are living in and from the "apostolic energy" of the Charism, especially after GC XXIV.
The elaboration of the action guidelines on the net is an important moment for the life of the ISS-FMA, because planning together means going to the roots of the charismatic identity, remembering history, and assuming the future with creativity.
From the charismatic inspiration derives the emphasis that the ISS-FMA planning wanted to give to the growth of the academic community, also through the relaunch of University Pastoral Ministry, with three thematic meetings, 9 meetings for languages, and with the approval of the pastoral ministry guideline, which will be implemented in 2023. A Salesian production cannot be satisfied with offering quality didactic activities, without committing itself to an integral educational offering, which proposes paths of human and spiritual growth, the possibility of commitment and volunteering, spaces for protagonism and co-responsibility.
The hope is that Planning can be a tool that gives fruitfulness to the life and future of the Academic and Youth Communities that animate the ISS-FMA.
"All the fundamental activities of a Catholic University are connected and harmonized with the evangelizing mission of the Church: research conducted in the light of the Christian message, which puts new human discoveries at the service of individuals and society; formation carried out in a context of faith, which prepares people capable of rational and critical judgment and aware of the transcendent dignity of the human person; professional formation, which includes ethical values and a sense of service to people and to society; dialogue with culture, which favors a better understanding of the faith; theological research, which helps the faith to express itself in a modern language". (Ex Corde Ecclesiae n°49)