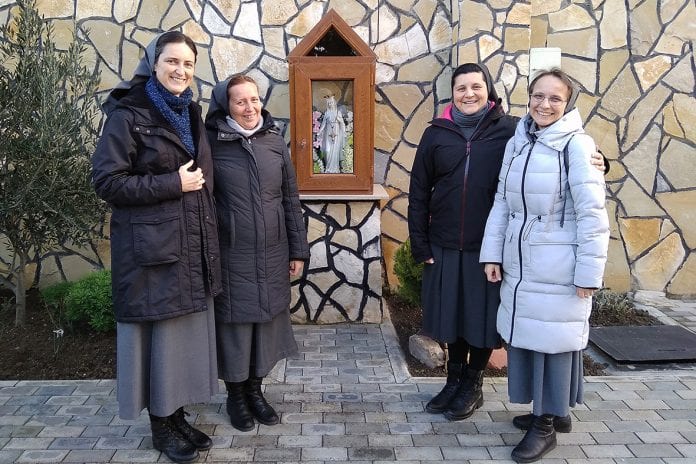 Baku (Azerbaijan). On 15 September 2020 in Baku, the Salesian Family celebrated 20 years of presence in Azerbaijan, the state between Asia and Europe on the border with Russia, Georgia, Armenia, and Iran.
Since 2000 in Baku, the capital, there have been present the Salesians of Don Bosco, the Daughters of Mary Help of Christians from the Slovak Province of St John Bosco (SLK) who arrived in 2015, and other groups of the Salesian Family. In 2018, in the Church of the Immaculate Conception in Baku, Fr. Vladimir Fekete, SDB, was consecrated Bishop of the Azerbaijan Prefecture.
The FMA are involved in pastoral activities in the parish, in catechesis, in the oratory, in other free time activities for the young, in volunteer work, and long-distance adoptions.
In the time of lockdown due to the Covid-19 pandemic, the FMA Community of St. Teresa of Avila of Baku helped the Missionaries of Charity in their mission to take care of the sick and the elderly. Some Missionary sisters were unable to return from the Spiritual Exercises and the lay staff had to stay at home. Three Missionary Sisters, the FMA, together with a Salesian priest and two volunteers, responded generously: "It was a very interesting and enriching experience. The work from morning to evening was demanding, but the fraternal spirit and the gratitude of the people gave strength to face the difficulties", says Sister Martina Alaxová, one of the four FMA of the Community.
The FMA have gradually resumed catechesis and encounters with children, families, and young people in small groups, in compliance with health rules. The church is still closed today and some restrictions remain in place, so alternative ways are sought to keep in touch and express closeness.
They also resumed the apostolate in a nearby city, Sumqayıte, in collaboration with a diocesan priest. It is a small reality, with a small group of Catholics who meet to pray the Rosary.
For Muslim children from poor families in the Child Distance Adoption Project (PAD), they created an online camp where for four weeks the participants learned to cook, to do small creative jobs and sports at home. At the end of every week, each would send a photo or video to document their activities.
In this already difficult time, the people of Baku and Azerbaijan are experiencing a painful situation with the population of neighboring Armenia. The FMA share this time of trial with the families and the population.