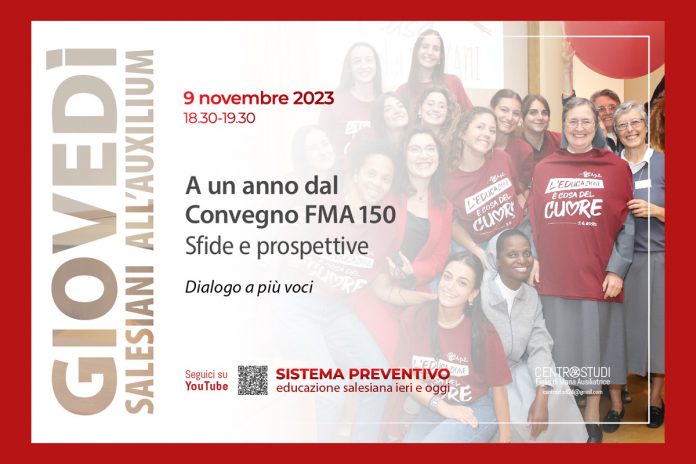 Rome (Italy). On 9 November 2023, the Salesian Thursdays at the Auxilium, will resume, organized by the Study Center on the Daughters of Mary Help of Christians of the Pontifical Faculty of Educational Sciences "Auxilium" in Rome. The initiative, in its fourth edition, responds to the numerous requests received by organizers from all over the world.
The 2023/2024 program is in continuity with the insights carried out for the 150th Anniversary of the FMA Institute. The unifying theme is: Preventive system. Salesian education yesterday and today.
One year after the FMA 150 Conference, Challenges and perspectives is the theme of the 1st meeting, a multi-voiced dialogue between male and female speakers who, a year ago, took part in the Conference "Contribution of the Daughters of Mary Help of Christians to education (1872-2022). Paths, challenges, perspectives". The occasion is given by the recent publication of the Proceedings of the International Conference, held in Rome from 25 to 30 September 2022, with the novelty of the references to the rich material still present on the site.
The round table, focused on the contribution of the Daughters of Mary Help of Christians to education, highlights the importance of exploring different points of view that illuminate the challenges and resources of the Salesian Charism, for an education that meets current needs.
The website of the Study Center on the FMA, continuously updated in the Documents section, thanks to the participants in the Spirituality Course residing at Casa M. Ersilia Canta, offers much material on the FMA, sources and studies on the Founders, on history, pedagogy, and spirituality. It is a large collection, available for Salesian formation both of the FMA and of the Educating Communities and of the Salesian Family.