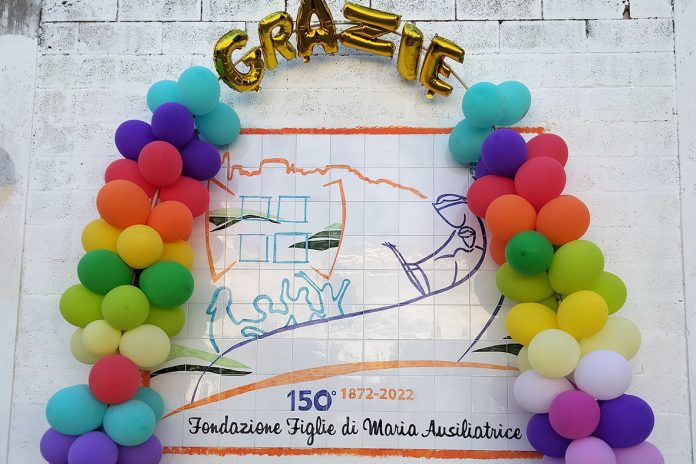 Ruvo di Puglia (Italy). On 5 August 2022, the Daughters of Mary Help of Christians of Sacred Heart Community of Ruvo di Puglia, Bari, of the Our Lady of Good Counsel Province (IMR), and the whole Educating Community, celebrated the 150th anniversary of the foundation of the FMA Institute with the Eucharistic Celebration in the Cathedral of Holy Mary of the Assumption presided over by the Bishop of Molfetta-Ruvo-Giovinazzo-Terlizzi, Msgr. Domenico Cornacchia, and concelebrated by various parish priests of the city.
The Educating Community lived an intense moment remembering the first profession of Mary Domenica Mazzarello and the first Sisters, and with the renewal of the vows of the FMA present.
At the end of the celebration, the assembly moved to the courtyard of the Oratory, where the hymn of the 150th, danced by animators and teenagers, opened the festivities. The Bishop blessed the mosaic and a mural, on the theme of the 150th anniversary, carried out by the girls and boys in the workshop activities of the Summer Children 2022.
The two-week workshop path was led by Sabrina Vendola, past pupil ceramist of Ciofs/Fp in Ruvo di Puglia and realized thanks to the commitment and passion of about fifteen adolescents and pre-adolescents of the oratory. After carrying out the various phases of the realization of the single tiles, the intervention of an expert tiler was needed to complete its fixing on the courtyard wall.
At the inauguration in addition to children, teenagers, and young people of "OratoriAMO with Don Bosco", the teachers and staff of Ciofs/Fp with their families, the Oratorian Council, and the representatives of the Salesian Family Groups were present, as well as the Mayor of Ruvo di Puglia and the Councilor for Welfare. The other Councilors were present with messages of good wishes. The blessing of the Bishop was followed by the cutting of the 150th anniversary cake and a feast with a toast to the next 150 years of life and vocational generativity, in a city that has given so much in vocations to Salesian religious life.
On this occasion, Msgr. Cornacchia hoped that the 'passing of the baton' between the current Animator, Sr. Immacolata Milizia, and the future Animator, Sr. Liberata Schiavello, already part of the Community, will take place in the sign of continuity. The Mayor expressed the Municipal Administration's gratitude for the synergy with the territory, for the commitment, and contribution given by the FMA Educating Community on the journey towards the dream of a citizen Educating Community, thanks to the networking of all the Associations and Educational Agencies.
After the photos together, the feast continued with music on the notes of the hymn of the 150th anniversary, which Oratorians and animators will always carry in their hearts as a memory of these extraordinary events in tune with the celebrations all over the world, from Mornese to the five continents.