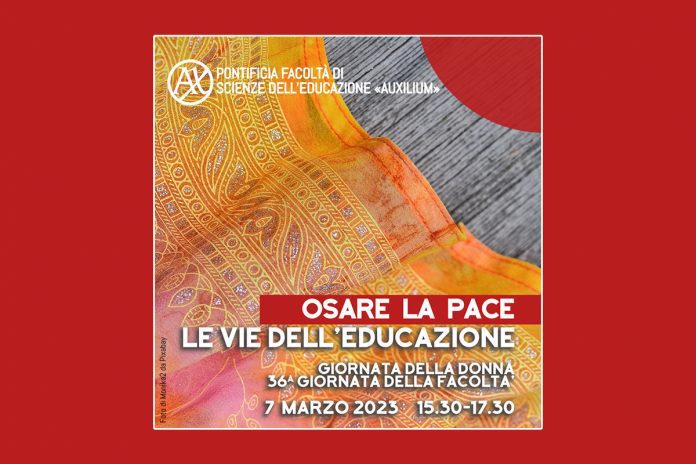 Rome (Italy). On 7 March 2023, on the occasion of International Women's Day and coinciding with the 36th Day of the «Auxilium» Faculty, the Pontifical Faculty of Educational Sciences «Auxilium» will take place in the Aula Magna «John Paul II» the Round Table "Dare for peace. The ways of education".
Eight Ambassadors accredited to the Holy See will dialogue with each other, with the Dean, Sr. Piera Ruffinatto, FMA, and with Dr. Alessandra Morelli, former UNHCR Representative and expert in humanitarian policies, on how education can contribute to a positive change in our society.
The purpose of the Round Table is to highlight how education is a path oriented towards change, which is implemented by bringing communities together, according to local situations, and promoting conflict resolution, supporting disadvantaged people or giving a voice to those who are margins of society, such as indigenous communities.
A "table of peace" to promote the culture of life, identifying in geopolitical and socio-cultural contexts not only the tragedies and critical issues, but also and above all the personal and institutional resources capable and ready to create and/or foster opportunities and educational processes that favor the growth of peacemakers.
The presence and interventions of women Ambassadors to the Holy See from all over the world – from France to Bolivia, from East Timor to Ghana, Australia and others – reinforces the sense of co-responsibility on a global scale. It is a dialogue open to diversity, in which the Women Ambassadors, coming from the five continents, will offer their perspectives on the value of education in conflict resolution, on the protection of the marginalized and on the strengthening of minorities.
The afternoon will begin with greetings from the Grand Chancellor of the Auxilium Faculty, Mother Chiara Cazzuola, Superior General of the Institute of the Daughters of Mary Help of Christians, and listening to the Message of his Eminence Cardinal Pietro Parolin, Secretary of State.
These will be followed by the interventions of Sr. Piera Ruffinatto, Dean of the Faculty, and of: H.E. Mrs. Chiara Porro (Ambassador of Australia); H.E. Ms Juvita Rodrigues Barreto De Ataíde Gonçalves (Ambassador of East Timor); H.E. Ms Alexandra Valkenburg-Roelofs (Ambassador of the European Union); H.E. Ms. Angelina Baiden-Amissah (Ambassador of Ghana); H.E María Isabel Celaá Diéguez (Ambassador of Spain); H.E. Ms. Teresa Susana Subieta Serrano (Ambassador of the Plurinational State of Bolivia); H.E. Ms. Florence Mangin (Ambassador of France); and Ms. Majlinda Dodaj (Chargé d'Affaires of Albania). Dr. Alessandra Morelli will moderate the presentations.
The event – from 15.30 to 17.30 in presence and live streaming on the Faculty's YouTube channel – ideally connects many Countries around a crucial theme for the future of humanity, in the diversity of contexts and the valuing of female resources.
Source: pfse-auxilium.org