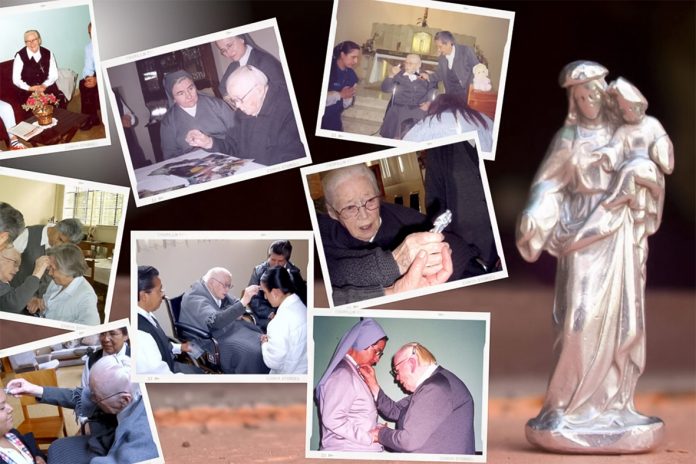 Rome (Italy). The Marian Solemnity of the Annunciation of the Lord, on 25 March 2023, is a favorable occasion to deepen the knowledge of the singular relationship with Mary of the Servant of God Sr. Antonietta Böhm (1907 – 2008) 50 years since Mother Ersilia Crugnola (1883 – 1973), gave her the statue of Mary Help of Christians. With the blessing given through this statue, numerous graces were obtained and continue to be obtained through the intercession of the Virgin.
Sr. Estela Vidales testifies that Mother Ersilia, a missionary in Mexico since 1922 and provincial since 1941, bought it in 1944 and later gave her blessing with that image of the Virgin and obtained numerous healings. Sr. Maria Teresa Henry recounts, "After my religious profession on 5 August 1949, I arrived at the provincial house and since then I remember perfectly that Mother Ersilia gave her blessing with the statue. Mother Ersilia had a great love for the Blessed Virgin and through her, Our Lady manifested her presence and her powerful help through extraordinary events. One day, I asked Mother Ersilia, Mother, that statuette, how did you get it? And she answered me evasively, 'It is one of those that the Salesians sell in the Church of Saint Agnese'".
On 6 April 1973, before her death, Mother Ersilia gave the statue to Mother Antonietta Böhm, with the mission to "make Her work". On the other hand, Don Bosco had said to the Sisters of Nizza, "Our Lady is here, she walks in this house and covers it with her mantle". Mother Antonietta herself recounts this in a Good Night that is preserved, recorded in a video: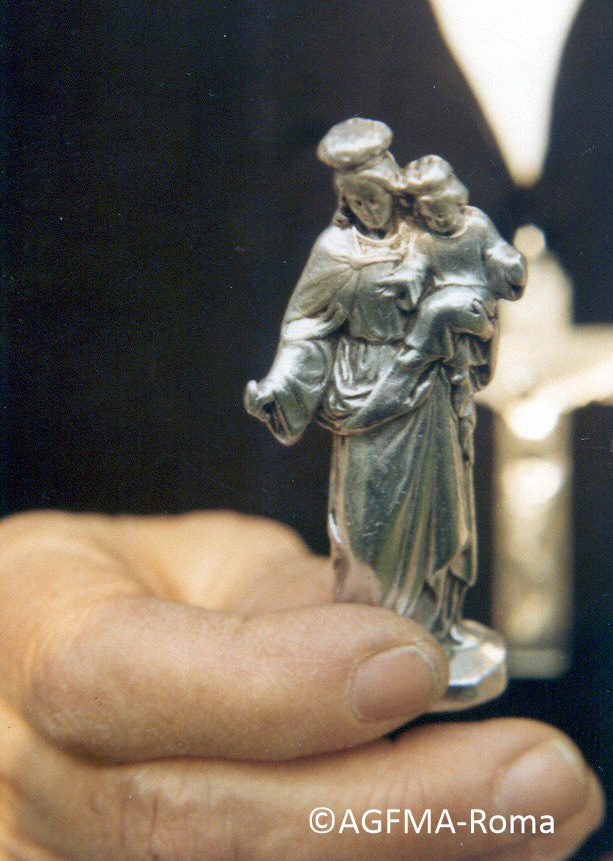 "I received the statuette of Mary Help of Christians in 'St. Elena' clinic, in Mexico City, where the unforgettable Mother Ersilia died a holy death on 7 April 1973. The day before her death, I observed that Mother had the statuette on the bed, and I was afraid that it would be lost, so I asked her, Mother, to whom will you leave the little Madonna who accompanied you on your travels for so many years? Her response was, 'I'll leave it to you.' As I thanked her, I said, well Mother, I'll take care of it. But she immediately replied, 'No, Our Lady does not need that! You make her work, and when there are people who cannot come to where you are, make her come through the air.' And I said, But what does it mean? What does it mean through the air? And she immediately explained to me with an example, 'Look, from Miami they are now asking for a blessing, and you cannot go there, and not even can the past-pupil come where you are, but the Madonna arrives at the destination with her blessing'.
Well, this was precisely the last dialogue I had with dear Mother Ersilia Crugnola. I still didn't quite understand that 'in the air', but after a few days, I received the first phone call from a former pupil from Miami who asked for the blessing of the Madonna. The lady had two daughters, paralyzed since birth. This was the first blessing I sent 'into the air'. The eldest of the daughters recovered immediately, the other also improved, but little by little.
Before being admitted to the hospital, Mother Ersilia, already being very ill, had given her blessing to the director of a bank who was suffering from exhaustion, but she had told him, 'Listen, you have little faith, one blessing is not enough, you need three blessings; you have little faith.' He had received two blessings from Mother. The very day Mother died, he came to ask for the third blessing. He didn't leave. They had told him that Mother was dead, and that from heaven she was sending him the third blessing. But he asked for her blessing and would not be convinced that he would receive it from heaven. He said, 'I know that Our Lady is at home'.
I must confess that I didn't want to give the blessing, but I had to give in! This was, for me, the first blessing I gave with the Madonna. That day, that gentleman was completely healed. On that day, even for me, my fear disappeared or rather I would say my self-love, in giving the blessing.
From that first blessing until today, Our Lady works day and night. And every day, even her range of action does not stop: by air, by mail, she arrives at various places in the nation and also in other nations. Phone calls are very frequent, during the day and sometimes even at night. Even dying people call me because they don't want to go to the Father's house without the blessing of Our Lady".
For 35 years, the statuette was Mother Antonietta's inseparable companion at all times, even, as Sr. Aurelia Lozano testifies, when she slept, she had it in her hands. In this regard, Sr. Alicia Guzmán recalls, "I sewed a special pocket in her skirt to put her handkerchief and the statuette, since she always carried it with her. Mother suffered a lot when she lost the statue and we all looked for it, otherwise she would not find peace".
From that moment, Mother Antonietta assumed the mission of being a sign of God's love and of the maternal goodness of Mary Most Holy for all. The blessing of the Virgin reached thousands of people directly, in the air, as Mother Ersilia taught, through the telephone and letters. The statuette was consumed as a result of all the blessings that the two Mothers gave, to the point that the face of the Madonna and that of the child no longer have a shape. Unlike Mother Ersilia who gave the blessing with a spontaneous prayer and an Ave Maria, Mother Antonietta coined a special blessing that we keep to this day. Before dying, Mother Antonietta in turn gave the statue to Sr. Estela Vidales, with the mission of "making her work".
In a letter written by her, Mother Antonietta, speaking of the statue, affirms, "… I would like everyone to understand that the power of the Virgin is not linked to any statue; it is not linked to any image, but to the faith we have in her. What Mary wants from us is that we have total trust in her power, in her goodness, in her merciful heart. This is the only thing the Virgin desires to make herself present. I would gladly send the blessing with the Madonna on all of you, but this, without faith, I repeat again, is nothing".