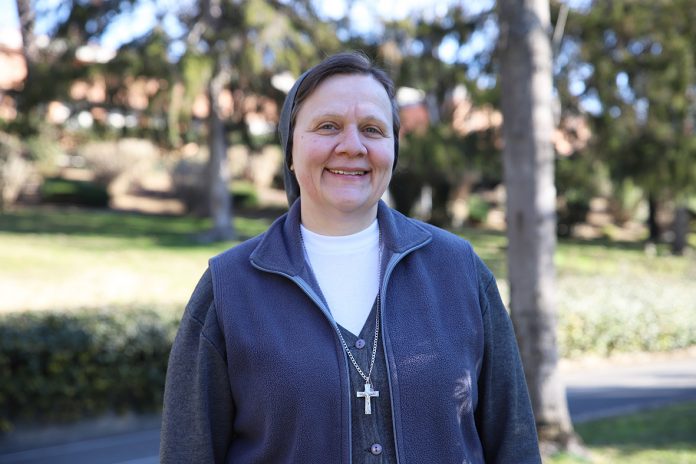 Rome (Italy). During the 134th Ordinary Assembly of the Slovenian Episcopal Conference (CES), held on 21 December 2022, the Slovenian Bishops appointed Sr. Marija Šimenc, Daughter of Mary Help of Christians, Provincial of the Province of Mary Help of Christians of Slovenia and Croatia (SLC), Secretary General of the ETUC for a five-year mandate (2023–2028).
Sr. Marija (Mojca) Šimenc graduated in Italian and Slovenian languages and Literature at the Faculty of Letters and Philosophy of the University of Ljubljana (1997). Meanwhile, in 1996 she completed the Catechetical and Pastoral Course in Ljubljana. In 2018, she obtained her Doctorate in Educational Sciences at the Salesian Pontifical University at the Faculty of Educational Sciences, Pedagogy Curriculum for the formation of vocations.
In the years 1998-2000, she served in the Secretariat of the Apostolic Nunciature in Slovenia. From 1999 to 2005, she was a member of the Council of the Association of Catholic Pedagogists in Slovenia and a member of the team of the Pedagogical Consultancy run by the Association. In the years 2006–2011, she served as a member of the Executive Council of the Conference of Women Religious in Slovenia (KORUS) before being elected Vice-President of KORUS (2008–2011). From 2009 to 2017, she was a Teacher at the catechetical and pastoral courses in Ljubljana. In 2019, she was elected Vice-President of KORUS (2019–2022).
The General Secretariat of the Slovenian Bishops' Conference is one of its bodies. The Secretary General is appointed by the Assembly of Bishops. According to the Statute of the Conference, the main functions of the General Secretariat concern the processing of information and contacts with various ecclesial and non-ecclesial bodies. The Secretary General directs and coordinates the work of the entire General Secretariat.
It is the first time that a woman has been nominated for this role In Slovenia. Sr. Marija Šimenc will begin her five-year mandate on 17 April 2023, taking over from the outgoing Secretary General, Fr. Tadej Strehovec, OFM.
The FMA Institute congratulates Sr. Marija, wishing her to continue to carry out her service in the Church with competence and passion, bringing the specific feminine educative-pastoral aspect of the Salesian Charism.