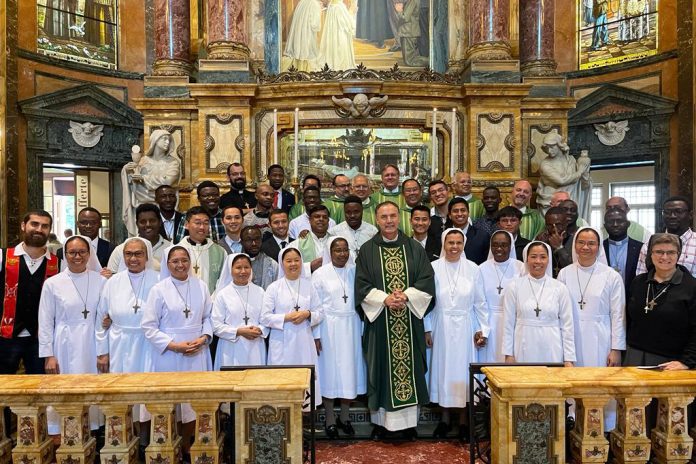 Turin (Italy). On 25 September 2022, in the Basilica of Mary Help of Christians of Valdocco, in Turin, ten Daughters of Mary Help of Christians and nineteen Salesians of Don Bosco received the missionary Crucifix during the Eucharistic Celebration presided over by the Rector Major, Fr. Ángel Fernández Artime, in the presence of several General Councilors and SDB Provincials from various nations, the Councilor for the SDB Missions, Fr. Alfred Maravilla, and the Councilor for the FMA Missions, Sr. Ruth del Pilar Mora.
The Missionary Expedition, the 145th for the Daughters of Mary Help of Christians and the 153rd for the Salesians of Don Bosco, was full of emotion, of grateful memory to God, for so many SDBs, FMAs, young lay people who since 11 November 1875, the date on which from the Basilica of Turin Don Bosco sent the first SDBs to Patagonia, continue to respond uninterruptedly with a generous "Here I am send me", to be sent to any part of the world.
In his homily, the Rector Major stressed that "only Don Bosco's strongly missionary heart made it possible for there to be many FMA and SDB from all nations here, in this Basilica. We are an Institute, a Congregation that changes, renews itself."
Most of the Salesians and FMA who received the missionary Crucifix come from Africa and Asia. Some are the first missionaries of their nations. Fr. Ángel recalled that "we were all born as a gift of the Holy Spirit, because others went on a mission to serve Jesus and the people."
Finally, he encouraged the new missionaries to "Go with great enthusiasm to share life with the people, with a great heart and flexibility. In sharing you will receive much more than what you are, without forgetting that we were born to meet children, young people, the poor."
After blessing the crucifixes, the Rector Major handed them to the SDB missionaries, while Sr. Ruth del Pilar Mora handed them to the ten FMA missionaries.
The celebration of a missionary mandate recalls what Pope Frances says in the Apostolic Exhortation Evangelii Gaudium, "Every Christian is a missionary to the extent that he or she has encountered the love of God in Christ Jesus; we no longer say that we are 'disciples' and 'missionaries', but rather that we are always 'missionary-disciples'." (EG 120)
We accompany the new missionaries in preparing for the mission so that, like Mother Mazzarello and Don Bosco, they may have broad and bright horizons and are passionate about Jesus, the young, and the poor.
The new FMA missionaries continue their journey, preparing for discernment in view of the destination with Missionary Formation at the Pontifical Urbaniana University in Rome and specific formation for the mission ad gentes, accompanied by Sr. Ruth del Pilar Mora and the collaborators of the Missions Sector.